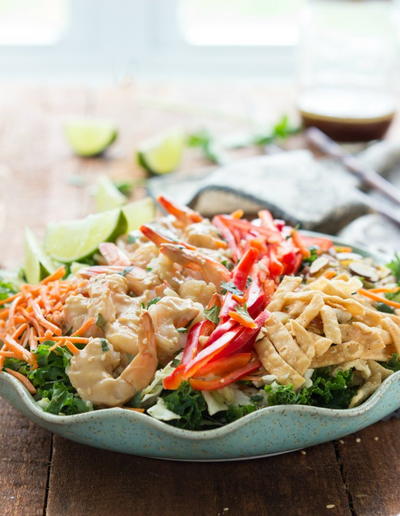 8 ounces shrimp peeled and deveined
2 tablespoons olive oil
Salt and Pepper
1 package Asian blend chopped salad I like Dole
3 cups kale
1/2 cup thinly sliced red bell pepper
1/3 cup shredded carrots
1/4 cup sliced almonds or peanuts
Wonton Strips
Optional: sesame seeds, additional cilantro
Chili Lime Vinaigrette
4 tablespoons freshly squeezed lime juice
2 tablespoons soy sauce
2 and 1/4 teaspoons olive oil
1 tablespoon brown sugar packed
3/4 teaspoon minced garlic
3/4 teaspoon red pepper flakes
Salt and pepper
Shrimp Peanut Sauce
2 tablespoons creamy peanut butter
1 tablespoon coconut milk
3/4 tablespoon soy sauce
1/8 teaspoon minced garlic
1 teaspoon brown sugar
1 tablespoon fresh lime juice
2-3 drops hot sauce optional
Preheat the oven to 400 degrees F. Line a large baking tray with parchment paper.
Rinse the shrimp under cold water for a minute and then toss in olive oil and with salt and pepper.
Spread evenly on the tray and bake for about 5 minutes or until just pink, firmed, and cooked through.
Remove from the oven and set aside.
Remove the packaging for the Asian chopped salad and pour into a large bowl.
Thoroughly wash and scrub the kale.
Chop into very small pieces and toss with the chopped salad.
Add in the red pepper (remove seeds and slice thinly), shredded carrots, and almonds or peanuts.
Chili Lime Vinaigrette
Combine all of the ingredients in a sealable jar.
Seal the jar tightly and shake until combined.
Adjust seasonings to preference and then pour over the salad and toss to combine.
Peanut Sauce
Combine all of the ingredients in a blender or food processor.
Blend until smooth, taste, adjust seasonings to preference, and brush or toss the shrimp in the sauce.
Add the shrimp to the salad.
Add in additional cilantro and seasame seeds if desired.
Top each salad plate with a generous handful of wonton strips.
Enjoy immediately.
Notes
If you don't plan on eating this salad right away, hold off on tossing it with the dressing as it makes the lettuce wilt.
Toss with dressing right before eating. Want some heat to the dressing? Add in some crushed red pepper flakes!