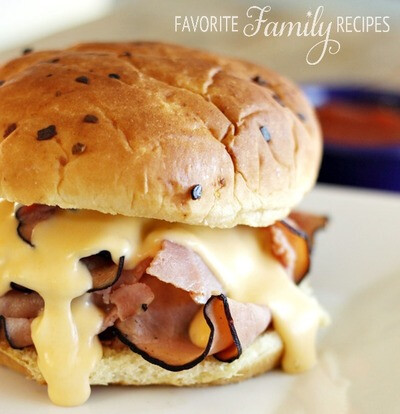 Deli ham, thinly sliced
Arby's Sauce (see below)
Onion buns
For the cheddar cheese sauce:
2 Tbsp. butter
2 Tbsp. flour
3/4 c. milk (or more if needed)
1-2 c. cheddar cheese (shredded by hand, not pre-packaged)
salt & pepper, to taste
In a medium-sized skillet over medium heat, cook deli ham until heated through (spray the pan with cooking spray to reduce sticking).
Spread Arby's sauce on one side of each bun and place ham on the bun.
Spoon on cheddar cheese sauce (see below) and serve.
For the cheese sauce:
Melt butter in a small sauce pan over medium heat. Whisk in the flour (whisking constantly) and cook for about 1 minute forming a roux.
SLOWLY whisk in milk until reaching desired consistency.
Remove from heat and stir in cheese.
Add salt & pepper, to taste.
Arby's Sauce
1 cup Water
1/2 cup Ketchup
2 tablespoon Brown Sugar
1/4 cup White Vinegar
3/4 teaspoon Onion Powder
3/4 teaspoon Garlic Powder
1/2 teaspoon Paprika
3 tablespoon Worcestershire Sauce (Lea and Perrins)
1/8 teaspoon Salt
1/8 teaspoon Cayenne Pepper
Corn Starch Mixture (thickening mixture)
1 tablespoon Corn Starch
2 tablespoon Water
Mix well set aside.
Place all sauce ingredients in a blender and blend on high speed for 15 - 20 seconds. Pour ingredients into a small saucepan, heat on medium low. Simmer gently for twenty minutes, stirring several times. After twenty minutes add corn starch mixture, stir well. When sauce begins to thickens let simmer on a very low temperature for ten minutes. Remove from heat and let cool.
Mixture will be similar in thickness to steak sauce. Store in a covered container in the refrigerator. This sauce is a nice change on hamburgers or pastrami, and great dipping sauce for hot wings.