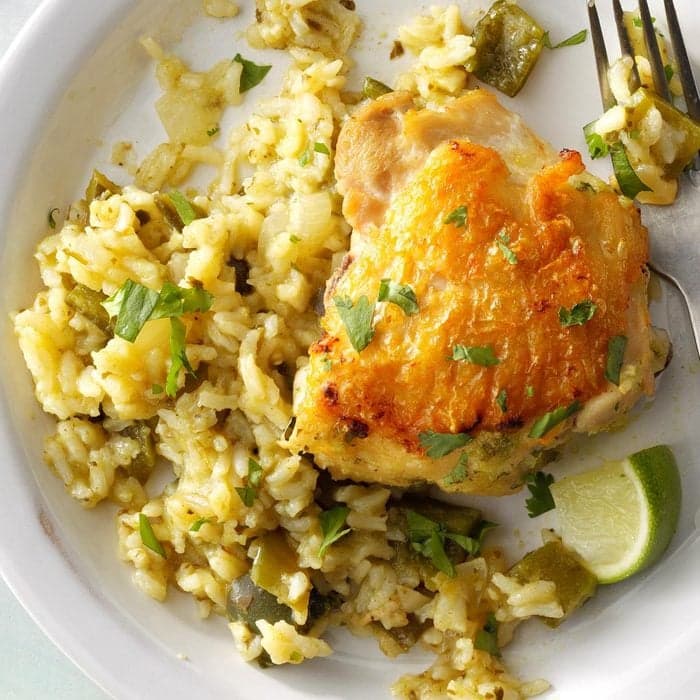 1-3/4 cups chopped onion, divided
1-3/4 cups chopped green pepper, divided
1/4 cup fresh cilantro (leaves and stems)
3 garlic cloves, halved
2 tablespoons lime juice
1 teaspoon ground cumin
1/2 teaspoon salt
1/2 teaspoon dried marjoram
2 cups chicken stock
1 tablespoon olive oil
1-1/2 pounds bone-in chicken thighs
3/4 cup chopped seeded fresh poblano pepper
1 cup uncooked jasmine rice, rinsed
Preheat oven to 325°. Place 1 cup onion, 1 cup green pepper, cilantro, garlic, lime juice, cumin, salt and marjoram in a food processor; process until blended. Stir in stock; remove and set aside.
In a large cast-iron or other ovenproof skillet, heat oil over medium heat. Pat chicken dry with paper towels. Brown chicken in batches. Remove chicken and keep warm.
Add poblano pepper, remaining 3/4 cup onion and 3/4 cup green pepper to drippings; cook and stir until crisp-tender, 3-4 minutes. Add rice; cook and stir until lightly browned, 2-3 minutes. Stir in broth mixture until blended. Return chicken to pan.
Bake, covered, until rice is tender and a thermometer inserted in chicken reads 170°-175°, 35-40 minutes. Remove lid. Preheat broiler. Broil 3-4 in. from heat until skin is crispy, 5-7 minutes.
To serve, remove chicken from pan. Fluff rice with a fork. If desired, serve with additional cilantro and lime juice.