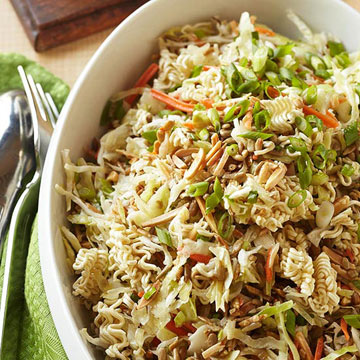 1/2 cup dry roasted, unsalted peanuts
3 cups shredded won bok (celery cabbage)
2 cups torn green lettuce leaves
1 cup grated carrot
1 small red bell pepper, diced
1/4 cup chopped green onions
1/4 cup reduced fat mayonnaise
2 tablespoons reduced sodium soy sauce
4 teaspoons rice vinegar
1 tablespoon brown sugar
1 tablespoon sesame oil
1/2 to 1 teaspoon Chinese chili paste with garlic
1 teaspoon minced fresh ginger root
1 garlic clove, minced
Toast peanuts in a small, dry, heavy skillet over medium-low heat,
stirring constantly until lightly browned and fragrant, about 2 to 3 minutes.
Transfer to a plate to cool. Put cabbage, lettuce, carrot, bell pepper,
and green onions into a large salad bowl. In a small bowl, whisk remaining
ingredients until smooth; pour over salad and toss gently.
Top with toasted peanuts.
Makes 6 servings.
Source: Hawaiian Electric Company, Oct 2003 newsletter.