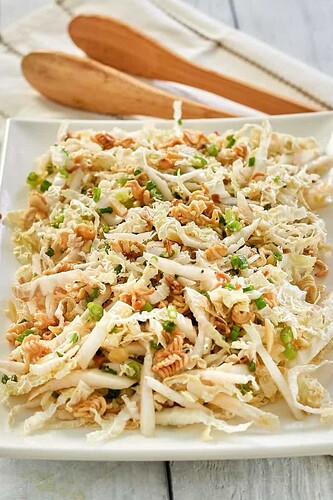 2 pounds Napa Cabbage
2 cups sliced green onions 2 bunches
2 tablespoons butter
3 packages Ramen noodles
1/2 cup slivered almonds
Dressing:
1/4 cup red wine vinegar
1/2 cup granulated sugar
1/2 cup vegetable oil
2 tablespoons Worcestershire sauce
1/2 teaspoon ground ginger
1/2 teaspoon dry mustard
1/2 teaspoon salt
1/4 teaspoon pepper
For the Salad:
Get your largest bowl, you will need it, this salad makes a large amount of salad. Slice Napa cabbage into 1/4 inch slices, you may want to roughly chop the cabbage again so the pieces aren't too large. Slice green onion tops and add to the bowl.
Melt butter in a large saucepan, add Ramen noodles to the saucepan breaking them as you put them into the saucepan. The most difficult part of this recipe is browning the noodles, and not burning them. It doesn't take long before the noodles are burnt, it seems to happen only a second or two after they are toasted, watch them carefully.
Add toasted Ramen noodles to the salad. Add slivered almonds to the salad, use your hands and toss the cabbage, green onions, toasted ramen noodles, and almond slivers well.
For the Dressing:
To make the dressing, use a medium-sized bowl. Add sugar, vinegar, dry ginger, dry mustard powder, Worcestershire sauce, and vegetable oil.
Whisk thoroughly, it may seem the sugar won't dissolve, it will. Once the sugar as completely dissolved pour over slaw and toss to mix well.