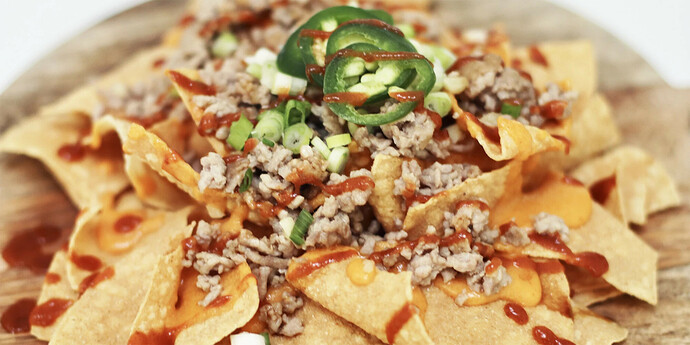 Sriracha Cheese Sauce
2 tablespoons butter
1/2 cup milk
2 cups shredded cheddar cheese
2 tablespoons Sriracha
Ginger-Garlic Ground Pork
1 tablespoons vegetable oil
1 tablespoon ginger
1 tablespoon garlic
1 pound ground pork
salt and freshly ground black pepper, to taste
Soy Sauce Vinaigrette
1 tablespoon soy sauce
1 tablespoon oyster sauce
1 teaspoon rice vinegar
1 tablespoon crushed red pepper flakes
2 tablespoons vegetable oil
Nachos
1 (12-ounce) bag tortilla chips
3 tablespoons sliced green onions
sliced jalapeños
For the Sriracha Cheese Sauce:
Melt butter in saucepan, then add milk. Stir in cheese until melted. Add Sriracha to cheese mixture and stir until evenly incorporated.
For the Ginger-Garlic Ground Pork:
Add oil to a large frying pan or wok along with ginger and garlic. Once ginger and garlic is fragrant, add ground pork, stir-fry until browned and season with salt and pepper, to taste.
For the Soy Sauce Vinaigrette:
In a small bowl, combine soy sauce, oyster sauce, vinegar, red pepper flakes.
Heat up oil in a separate pan, pour over sauce mixture and let it sizzle.
For the nachos:
Place tortilla chips on a sheet or large platter.
Pour Sriracha cheese sauce over the chips, then add the ginger-garlic ground pork on top.
Drizzle with soy sauce vinaigrette and top with green onions and jalapeños.
Notes
Be sure to heat the Sriracha cheese sauce right before pouring it on top of chips so that the cheese can evenly coat each chip.
You can always swap out ground pork for ground chicken if you prefer.