Just about everybody loves cheese. Loaded with calcium and protein, the "real thing" makes so many dishes more appealing, and mellow, nutty, smooth-melting Norwegian Jarlsberg-America's most popular specialty cheese-is particularly versatile, a family favorite.
Made from part-skim milk, it's naturally low in calories, sodium and fat-newer Jarlsberg Lite, also great for snacking and cooking, has 50 percent less fat than regular Swiss.
Try this super simple Asparagus Rolls recipe-a surefire party idea.
Asparagus Rolls With Ham and Jarlsberg Cheese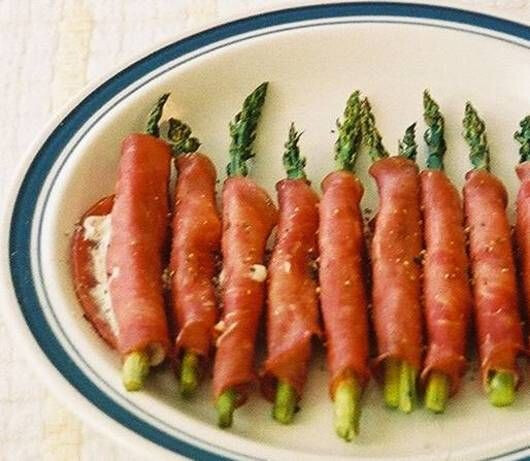 Ingredients:
12 clean asparagus spears
12 thin slices lean ham
1 cup grated Jarlsberg cheese
Directions:
Boil asparagus in lightly salted water 1 minute. With slotted spoon, dip spears in ice water to preserve color; drain on paper towels.
Wrap a slice of ham around each spear and place on baking sheet lightly sprayed with oil. Sprinkle spears liberally with Jarlsberg and brown in 450° oven about 5 minutes. Serve immediately.
Serving suggestions: Place on grilled country bread brushed with olive oil and garlic and topped with chopped tomatoes plus a bit of sea salt, if desired.
Until Next Time… Be Well!
Kind Regards,
RSN
=-=-=-=-=-=-=-=-=-=-=-=-=-=-=-=-=-=-=-=-=-=
Enjoy Your Best Health Ever! PLUS…
Get Incredible Mental Focus and Potentially
Add Years to Your Life! with The AIP Diet
=-=-=-=-=-=-=-=-=-=-=-=-=-=-=-=-=-=-=-=-=-=