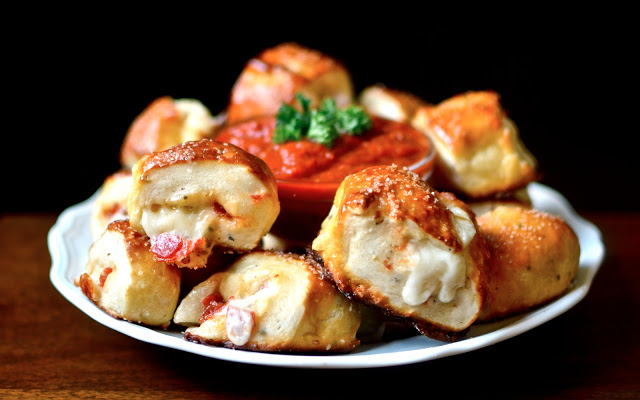 1 cup milk
1 tablespoon active dry yeast
3 tablespoons brown sugar
2 tablespoons butter, melted
2 1/4 cups flour (or more)
1/2 tablespoon Italian seasoning
1/2 teaspoon garlic powder
1 teaspoons fine salt
1 cup shredded mozzarella
1/2 cup chopped pepperoni
1/3 cup baking soda
3 cups warm water
Coarse salt (I used kosher, but the coarser the better)
5 tablespoons butter, melted
Pizza, sauce for dipping
Warm up the milk in the microwave or on the stove for just about one and a half minutes. It should be about 110º. If it's too hot it will kill the yeast. You should be able to comfortably keep your finger in it. Stir in the yeast and let it sit for about 3 minutes. Add the butter and sugar. Add the flour about 1/2 cup at a time and the add the fine salt, seasoning, and garlic powder. Add a little more flour if it's still too wet. Knead for about 10 minutes with a stand mixer, or by hand. Put it in a greased bowl and cover with a wet cloth. Let rise for 30-60 minutes in a moist, warm place until about doubled in size. Preheat the oven to 400º. In a large bowl (or 4 cup measuring cup) combine the warm water and baking soda. Punch down the dough and divide in half. Roll one half into a thick rope/log. Flatten and top with half of the cheese and pepperoni. Pinch together trying to seal the cheese and pepperoni in the best you can. Dunk the whole rope in the baking soda water for only a couple seconds. Remove from water and slice into bite sized pieces with a serrated knife. Place on a greased baking sheet and sprinkle with coarse salt. Bake for about 8 minutes or until browned. Dip each in the melted butter while hot. Serve with pizza sauce.