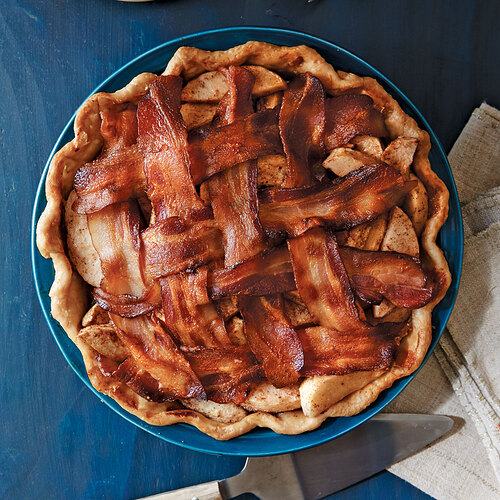 1/2 (14.1-oz.) package refrigerated piecrusts
3/4 cup firmly packed light brown sugar
2 tablespoons cornstarch
1 teaspoon ground cinnamon
1/2 teaspoon ground cardamom
1/2 teaspoon freshly grated nutmeg
1/2 teaspoon ground cloves
6 cups (1/2-inch-thick) slices peeled Fuji apple (5 apples)
10 to 12 applewood-smoked country bacon slices
Preheat oven to 350°. Unroll piecrust, and fit into a 9-inch pie plate. Fold edges under.
Stir together brown sugar and next 5 ingredients with a fork in a large bowl. Add apple slices, tossing to coat.
Arrange apple slices in prepared crust, spooning sugar and accumulated juices over apple.
Arrange bacon slices in a lattice design over filling; gently press ends of strips, sealing to piecrust.
Cover pie with aluminum foil. Place pie on a baking sheet. Bake at 350° for 1 hour. Remove foil.
Bake for 40 more minutes or until crust is golden brown and bacon is crisp.
Remove pie from baking sheet, and let cool on a wire rack for at least 1 hour before cutting into wedges.
Oxmoor House