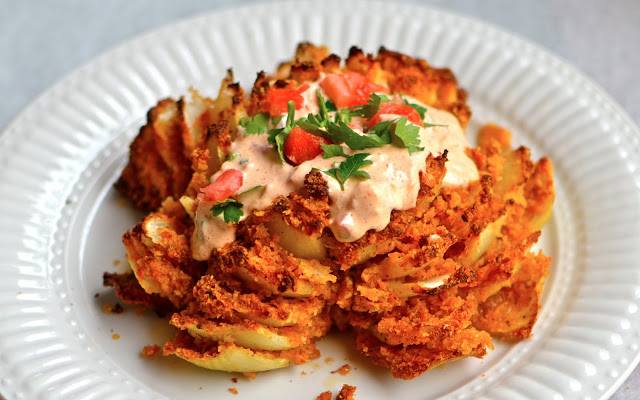 Egg Wash:
3 eggs
1/4 cup water
1/2 teaspoon paprika
1/2 teaspoon garlic powder
1 teaspoon yellow mustard
Crumbs:
3/4 cup cornflake crumbs
1/4 cup parmesan cheese or corn starch
1 teaspoon garlic powder
1 teaspoon paprika
1 teaspoon oregano
Cayenne pepper
2 tablespoons melted butter and/or oil
Preheat the oven to 425ºF.
In one bowl, beat together the eggs, water, paprika, garlic powder, and mustard. In another bowl mix together the cornflakes, parmesan or corn starch, garlic powder, paprika, oregano, cayenne, salt, and pepper. Set aside.
Cut about 1/2 inch off the top of the onion and peel the skin off. Cut the tip of the root off so the onion can stand on it. Cut the onion into about eight wedges being very careful not to cut all the way through (leave about 1/2 inch).
Dip the onion in the egg mixture, spooning it between each "petal". Once it's completely coated toss it in the crumbs, once again spooning it between each petal. Repeat this process, coating the onion once more in the egg mixture and then a final time again in the crumbs (use every bit of the crumbs you can).
Place on a well greased baking sheet. Drizzle with melted butter and/or oil. Then you can give it a final spritz of cooking spray (PAM or something) to make sure the whole thing is coated. Bake at 425ºF for about 45 minutes. Serve with remoulade sauce.
Remoulade sauce
1/2 cup real mayonnaise
1/2 cup Sour cream
1/4 cup ketchup or chili sauce
1 tablespoon dill pickle juice (or 1/2 tablespoon vinegar)
1/2 teaspoon creole seasoning
1 tablespoon paprika
1/4 teaspoon dry mustard
1-4 teaspoons prepared horseradish
1 large clove minced garlic (about 1/4 teaspoon garlic powder)
1 tablespoon Worcestershire sauce
1 tablespoon Texas Pete
Cayenne pepper to taste
1 tablespoon freshly squeezed lemon juice (especially if serving with seafood)
Salt and pepper to taste
Optional add-ins: Finely chopped green onion, fresh parsley, celery, tomato, and/or red bell pepper
Mix all together. Keep refrigerated. Serve with seafood, sandwiches, burgers, chicken, fries, onion rings, bloomin' onions, etc.
Remoulade Sauce a la New Orleans
1 cup mayonnaise
1/4 cup chili sauce
2 tablespoons Creole mustard
2 tablespoons extra-virgin olive oil
1 tablespoon Louisiana-style hot sauce, or to taste
2 tablespoons fresh lemon juice
1 teaspoon Worcestershire sauce
4 medium scallions, chopped
2 tablespoons chopped fresh parsley
2 tablespoons chopped green olives
2 tablespoons minced celery
1 clove garlic, minced
1/2 teaspoon chili powder
1 teaspoon salt, or to taste
1/2 teaspoon ground black pepper
1 teaspoon capers, chopped (optional)
Mix together mayonnaise, chili sauce, mustard, olive oil, hot sauce, lemon juice, and Worcestershire sauce. Stir in scallions, parsley, olives, celery, capers, and garlic. Season with chili powder, and salt and pepper. Cover, and refrigerate.