Bakers Square Copycat Hawaiian Strawberry Pie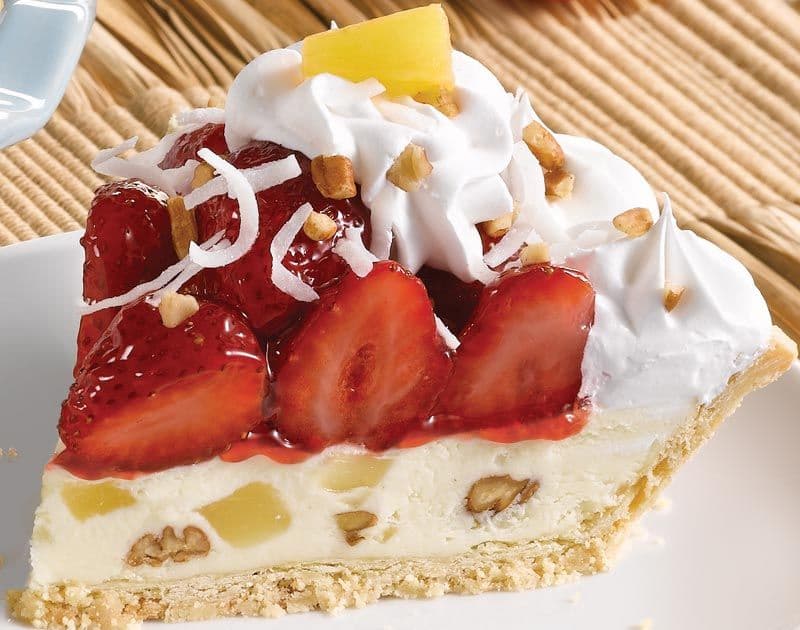 =-=-=-=-=-=-=-=-=-=-=-=-=-=-=-=-=-=-=
Tired of Exercising and Dieting?

It's Time to Try BioPls Slim Pro
=-=-=-=-=-=-=-=-=-=-=-=-=-=-=-=-=-=-=
2 packages (3.4 oz EACH) INSTANT vanilla pudding and pie filling mix
1 cup milk
3/4 cup well-drained crushed pineapple (press thoroughly dry with paper towels)
3/4 cup chopped pecans
3/4 cup flaked coconut
1 cup whipping cream, whipped
1 baked (9 1/2-inch) pie shell
1 pint basket fresh strawberries, rinsed and hulled
1/2 cup seedless strawberry preserves OR store-bought strawberry glaze
Whipped cream for garnish (optional)
In a medium bowl, combine pudding mixes and milk. Whisk together with a wire whisk 1 minute until thoroughly blended. Stir in well-drained pineapple, pecans and coconut until well-blended. Fold in whipped cream.
Turn into baked pie shell, spreading evenly. Refrigerate 4 to 5 hours or until filling is set.
An hour before serving time, arrange whole berries over top of pie and spoon strawberry jam or glaze over berries. Refrigerate until serving time. Garnish with a border of whipped cream, if desired. Keep any leftovers refrigerated. Makes 1 pie.
Source: LA Daily News, 1997
=-=-=-=-=-=-=-=-=-=-=-=-=-=-=-=-=-=-=-=-=-=-=-=-=-=
Your OMAD should be a Vegan Protein Smoothie
=-=-=-=-=-=-=-=-=-=-=-=-=-=-=-=-=-=-=-=-=-=-=-=-=-=