Today's Secret Recipe comes from Balboa Cafe in Mill Valley, California. This American bistro serves a menu made of fresh, seasonal produce and classic cocktails. Open for lunch and dinner it's considered by many as the "in" place to eat, drink and be merry.
One of the fresh dishes served at Balboa Cafe is the kale slaw. Thinly sliced kale is tossed with colorful carrots, red cabbage and fresh fennel, then tossed with a light and tangy dressing. Toasted walnuts are added at the end for some added crunch
If you enjoy this recipe, then you must check out all of the slaw recipes we have on our forum: Go Here
Enjoy!
=-=-=-=-=-=-=-=-=-=-=-=-=-=
I was losing my memory, focus – and my mind!
And then… I got it all back again.
Discover How: Here
=-=-=-=-=-=-=-=-=-=-=-=-=-=
=-=-=-=-=-=-=-=-=-=-=
New Secret Recipe
=-=-=-=-=-=-=-=-=-=-=
Balboa Cafe's Kale Slaw
Like this recipe? Get our Restaurant Secret Recipes Cookbook – Go Here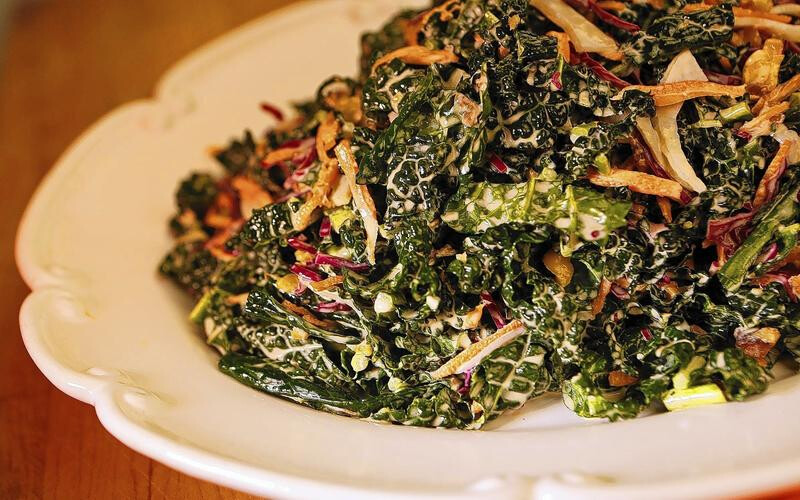 Dressing:
1 1/3 cups mayonnaise
1 small clove garlic, minced
3 tablepoons Dijon mustard
2 tablespoons lemon juice
1/4 cup apple cider vinegar
3 tablespoons pumpkin seed oil
Salt and pepper
In a medium bowl, whisk together the mayonnaise, garlic, mustard, lemon juice, cider vinegar and oil. Season with salt and pepper to taste. This makes a generous 11/2 cups dressing, which will keep, covered and refrigerated, up to 5 days.
Kale slaw:
2 bunches lacinato kale (also called Tuscan or dinosaur kale, or cavolo nero), tough ribs removed and cut crosswise into thin strips
2 cups grated carrots
2 cups shaved red cabbage
1 1/2 cups shaved fennel
Dressing
Salt and pepper
1 cup chopped toasted walnuts
In a large bowl, combine the kale, carrots, cabbage and fennel. Add 1 cup dressing, tossing to coat; add additional dressing, a little at a time, to coat the salad as desired. Taste and season with one-eighth teaspoon salt and pepper, or as desired. Toss with the walnuts before serving.
Makes 12 cups.
Source: LA Times
Get more secret restaurant recipes on our Secret Recipe Forum: Go Here
Until Next Time… Be Well!
Kind Regards,
RSN