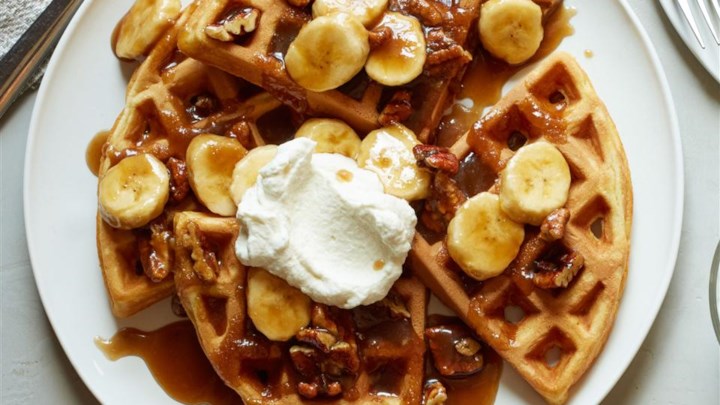 1 1/3 cups all-purpose flour
3/4 teaspoon baking soda
2 teaspoons white sugar
1/4 teaspoon salt
3 eggs
1 1/2 teaspoons vanilla extract
1 1/3 cups milk
1/3 cup melted butter
2 teaspoons baking powder
1/4 cup butter
2/3 cup brown sugar
2 teaspoons rum flavored extract
2 teaspoons vanilla extract
1/2 teaspoon ground cinnamon
1/4 cup whole pecans
1/2 cup pancake syrup
3 bananas, cut into 1/2 inch slices
1 cup heavy cream
1/4 teaspoon vanilla extract
1 tablespoon confectioners' sugar
Preheat a waffle iron.
Whisk together the flour, baking soda, baking powder, white sugar, and salt in a bowl; set aside.
Whisk together the eggs, 1 1/2 teaspoons vanilla extract, and milk in a bowl.
Stir in the melted butter and flour mixture until a slightly lumpy batter forms.
Cook the waffles in the preheated iron until steam stops coming out of the seam, about 2 minutes.
Meanwhile, melt 1/4 cup of butter in a saucepan over medium heat.
Stir in the brown sugar, rum extract, 2 teaspoons vanilla extract, and cinnamon.
Bring to a simmer, the stir in the pecans and continue simmering for 1 minute.
Stir in the pancake syrup and bananas, continue cooking until the bananas soften, about 4 minutes.
Beat the heavy cream, 1/4 teaspoon of vanilla and confectioners' sugar with an electric mixer in a medium bowl until firm peaks form.
Once waffles are done, spoon bananas Foster sauce over waffle and top with a dollop of whip cream.