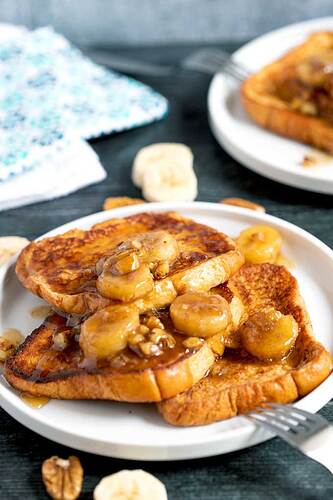 12 slices brioche bread (day old is best)
Unsalted Butter for frying (about 6 tablespoons or more, as needed)
Whipped cream for serving (optional)
Custard
4 large eggs
2 tablespoons granulated sugar
1 1/2 cups half and half or whole milk
1 teaspoon cinnamon
1 teaspoon pure vanilla extract
Banana Topping
6 tablespoons unsalted butter
1/2 cup packed brown sugar
1/4 cup maple syrup
1/4 cup dark rum or 1 teaspoon rum extract
1/4 cup chopped pecans (optional)
2 firm bananas, peeled and sliced
Preheat the oven to 300 degrees Fahrenheit.
Custard:
In a medium bowl or shallow dish, whisk together the eggs, sugar, Half and Half (or milk), cinnamon and vanilla.
French Toast:
Preheat a skillet over medium-low heat.
In batches, dip the bread into the custard to coat both sides. Remove the bread from the custard mixture letting the excess moisture drip off.
Add 1 tablespoon of unsalted butter into the skillet. Place the bread in the pan and cook for about 2 to 3 minutes per side or until lightly golden. Remove the French toast from the skillet and place on a rack or baking sheet in the oven to keep warm. Add more butter to the pan as needed and repeat with the remaining bread.
Banana Topping:
Heat the butter in a saute pan over medium-high heat. Whisk in the brown sugar and maple syrup and cook for about 5 minutes or until all the sugar has melted and thickened slightly. Add the pecans (if using) and mix to combine. Add the banana slices and cook for about a minute. Remove the pan from the heat and add the rum or rum extract. Return the pan to the heat and cook for about 3-4 minutes. This will burn off the alcohol in the rum leaving you with just the flavor.
To serve, place a couple slices of French toast on a plate and spoon the bananas and syrup over the French toast. Serve immediately with a dollop of whipped cream (optional).
Notes
Stale bread or oven-dried bread work best for this recipe.
The alcohol in the rum evaporates as you simmer the sauce.
However, you can use rum extract if you prefer.
The bread cooking times will vary depending on the thickness and density of the bread and the amount of custard soaked into each piece of bread.