Today I have a Secret Recipe from Barrel and Ashes in California. Barrel and Ashes is a casual, 2-story American eatery using an open-hearth oven, a rotisserie & a mesquite grill. They serve each diner a small griddle of fresh baked corn bread called hoe cakes. The name comes from the slavery-era practice of baking flat rounds of cornmeal batter on a hoe blade heated in a fire. They serve these cakes with maple butter, green onions and coarse salt.
You can make your own fresh maple butter by following this recipe.
Enjoy!
=-=-=-=-=-=-=-=-=-=-=-=-=-=
Create Quick & Easy Fat Burning
Recipes That Will Taste Just Like Your Favorite Meals: Go Here
=-=-=-=-=-=-=-=-=-=-=-=-=-=
=-=-=-=-=-=-=-=-=-=-=
New Secret Recipe
=-=-=-=-=-=-=-=-=-=-=
Barrel & Ashes Hoe Cake
Like this recipe? Check out our Collector's Edition – Go Here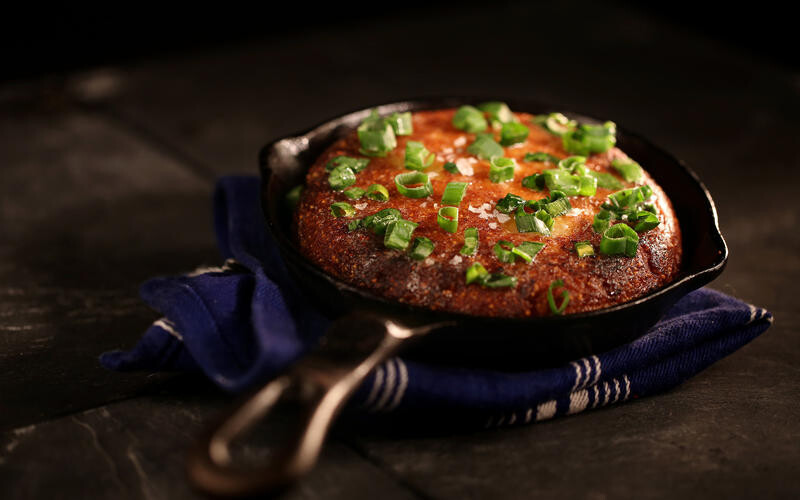 1/2 cup plus 2 tablespoons (100 g) course-ground cornmeal
2/3 cup plus 1/4 cup (108 g) all-purpose flour
Scant 2 tablespoons (20 g) sugar
1 heaping teaspoon (7 g) baking powder
1/2 teaspoon (4 g) salt
1 egg and 1 egg white, beaten
1 cup plus 1 tablespoon (333 g) milk
1/4 cup plus 2 teaspoons clarified butter
Butter, for greasing the skillet
Maple butter, for serving
Coarse sea salt, for serving
Coarsely chopped green onion, for serving
Heat the oven to 450 degrees. In a large bowl, whisk together the cornmeal, flour, sugar, baking powder and salt. In a separate bowl, whisk together the eggs and milk. Fold the wet ingredients into the dry ingredients, then fold in the clarified butter. Transfer the mixture to a blender and blend to fully incorporate the ingredients.

Heat a small (5- to 6-inch) cast iron skillet over medium-high heat until hot. Add a small pat of butter to the pan, swirling the pan until the butter is melted and bubbly. Spoon in about 3/4 cup batter, spreading the batter so it reaches the edges of the pan in an even layer.

Cook the batter in the pan until the bottom forms a crust and the batter begins to bubble around the edges, about 2 minutes. Transfer the pan to the oven and bake until the cake is almost set but jiggles slightly in the center, 2 to 3 minutes.

Return the pan to the stove-top and flip the cake over in the pan. Continue cooking over medium-high heat until the cake is set and a crust has formed on the bottom of the cake, 1 to 2 minutes. Remove from heat.

Spread 2 to 4 tablespoons maple butter over the cake, sprinkle over a little coarse sea salt and garnish with green onion. Serve immediately.
Makes 3-4 cakes.
Have a comment or question about this recipe? Post it here
Source: LA Times
Get more Secret Restaurant Recipes: Here
Until Next Time… Be Well!
Kind Regards,
RSN