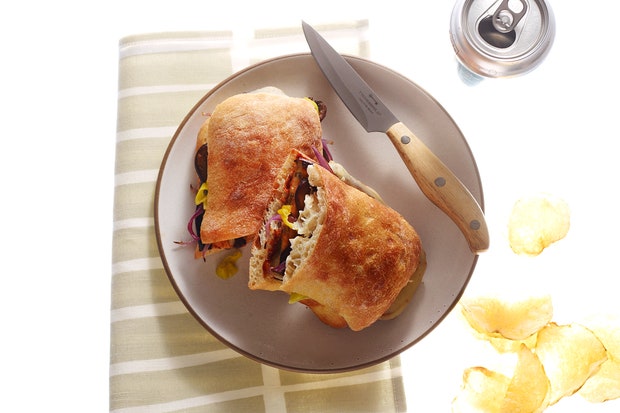 1 large eggplant (about 1 1/2 pounds), trimmed and sliced lengthwise into four 1/2-inch thick planks
1/2 cup BBQ sauce, divided
1 teaspoon kosher salt
1/2 teaspoon freshly ground black pepper
8 ounces cremini mushrooms, thinly sliced
1 red onion, halved and sliced into thin wedges
2 tablespoons vegetable oil
4 slices provolone cheese (1/8-inch thick slices)
4 ciabatta or hoagie rolls, split and toasted
1/4 cup mayonnaise
2 jarred pepperoncini peppers, thinly sliced
Position oven rack six inches from the heat source and preheat broiler on high. Line broiler pan or rimmed baking sheet with foil.
Brush eggplant slices on both sides with 2 tablespoons BBQ sauce and season with 1/2 teaspoon salt and 1/4 teaspoon peeper. Arrange slices on foil-lined pan.
Broil eggplant until browned and soft, about 4 minutes. Meanwhile, in a medium bowl, toss mushrooms and red onion with oil, 1/2 teaspoon salt, and 1/4 teaspoon pepper and reserve.
Remove broiler pan from oven, flip eggplant slices, and brush with 2 more tablespoons BBQ sauce. Scatter mushroom mixture around the eggplant on the pan and broil until browned and soft, about 3 minutes more. Add 1 slice of cheese to each eggplant plank and continue to broil until cheese is melted and browned, about 2 minutes more.
To assemble the sandwiches, brush the top toasted half of each roll with 1 tablespoon mayonnaise and each bottom half with 1 tablespoon BBQ sauce. Layer an eggplant slice, some mushroom mixture, and a few slices of pepperoncini on the bottom of each roll. Close the sandwiches and serve immediately.
Epicurious