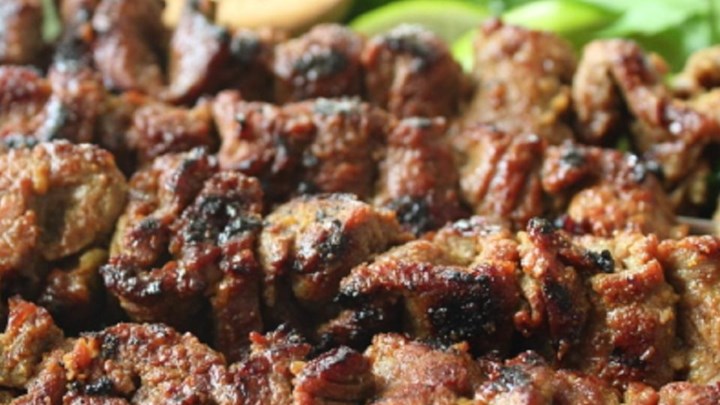 1 tablespoon grated fresh ginger root
4 cloves garlic, crushed
2 tablespoons minced onion
1/4 cup packed brown sugar
1/4 cup fish sauce
2 tablespoons vegetable oil
2 tablespoons soy sauce
2 tablespoons ground coriander
1 tablespoon ground cumin
1/2 teaspoon ground turmeric
1/8 teaspoon cayenne pepper
1 2-inch piece of fresh lemon grass (white part only)
2 pounds beef top sirloin, trimmed
4 12-inch long metal skewers
Place ginger, garlic, onion, brown sugar, fish sauce, vegetable oil, soy sauce, coriander, cumin, turmeric, and cayenne pepper into a mixing bowl; whisk into a smooth marinade.
Bruise lemon grass by hitting it lightly several times with the back of a large chef's knife; mince the lemon grass and add to the marinade.
Cut beef sirloin into strips about 2 1/2 inches long and 1/8 inch thick. Thoroughly mix the beef into marinade until all beef strips are completely coated, about 1 minute. Cover bowl with plastic wrap and marinate in refrigerator for 2 to 4 hours.
Preheat an outdoor grill for high heat and lightly oil the grate.
Remove beef from marinade and shake off excess marinade. Thread 1/4 the meat onto each metal skewer.
Arrange skewers on the preheated grill and cook until the meat stops sticking to the grill, about 1 to 2 minutes. Flip skewers over onto other side and cook until meat is well browned and shows grill marks, 2 to 2 1/2 minutes. Turn onto first side again and cook until meat is still slightly pink, 2 more minutes. Transfer to a platter and let skewers rest about 2 more minutes before serving.
Chef John