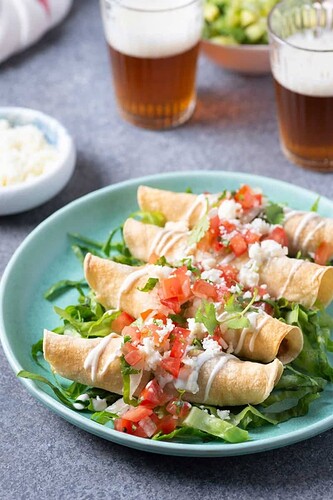 1 pound lean ground beef
2 tablespoons taco seasoning or 1 packet/1 ounce
1 chipotle in adobo sauce finely chopped, plus 1-2 teaspoons adobo sauce (optional)
4 ounces cream cheese
1/2 cup mild or medium salsa such as Pace
1/2 cup sour cream
1 cup shredded cheese, Monterrey Jack, cheddar or a combination
8 corn tortillas
Cooking oil about 2 tablespoons or oil spray
Optional Toppings
Guacamole, chopped tomatoes, salsa, pico de Gallo, sour cream, shredded lettuce, crumbled Cotija cheese,chopped cilantro.
Preheat the oven to 375º F and grease a 9×13 inch baking dish with cooking spray. You can also use a baking sheet pan lined with parchment paper (for easy clean up) greased with cooking spray. If using the air fryer, preheat to 400ºF.
In a large skillet over medium-high heat, cook the ground beef breaking it up with a wooden spoon, until cooked through and no longer pink. If you have any excess fat, drain it if preferred. Stir in the taco seasoning and the chipotle in adobo sauce plus the adobo sauce and mix to combine.
Lower the heat to medium-low and add the cream cheese. Stir until the cheese has melted. Stir in the salsa and sour cream and mix well. Stir in the shredded cheese and remove from the heat.
To soften the tortillas and make them pliable, wrap them in a damp paper towel and warm them up in the microwave for 30 seconds.
To assemble the taquitos, place a tortilla on a clean work surface.
Add a scoop of the cheesy beef filling on one side of the tortilla all the way to the edges. Roll up the tortilla tightly and place seam-side down on the baking pan. Repeat until all the tortillas are filled and assembled.
Cooking in the Oven
Lightly brush the tortillas with cooking oil (or mist with oil spray) and bake for about 15 minutes or until crispy.
Cooking in the Air Fryer
For the air fryer, place the taquitos in the air fryer basket, seam side down ina single layer, making sure they are not touching, and mist with oil. Cook until goldenbrown, about 4-5 minutes. Turn taquitos over, mist with avocado oil, and air fry untilcrispy, 2-4 minutes.
Pan Fried or Deep Fried
IMPORTANT: When deep frying or pan searing, roll the taquitos and secure them with a toothpick so they don't open up when frying.
For pan searing, fill a skillet with about 1/2 inch of oil and heat over medium-high heat. Cooking in batches, add 3-4 taquitos into the skillet and fry until crispy and golden brown, about 2 minutes per side. Transfer to a paper towel lined plate to drain. After a few minutes remove the toothpicks.
For deep frying, fill a deep pot or skillet with any mild oil such as vegetable oil or grape seed oil. Heat the oil over medium-high until it reaches 350ºF. Cooking in batches, cook 3 to 4 taquitos.