Best Pumpkin Pie Bars
A great treat to make for Halloween parties and Thanksgiving get-togethers are Pumpkin Pie Bars. These scrumptious cookie bars taste like mini pumpkin pies, and best of all, they're portable. A yummy way to celebrate the Holidays with Friends and family.
Enjoy!
=-=-=-=-=-=-=-=-=-=-=-=-=-=
27,293 people have lost 20 pounds or more ,
Eating all the foods they love. Find Out how.
=-=-=-=-=-=-=-=-=-=-=-=-=-=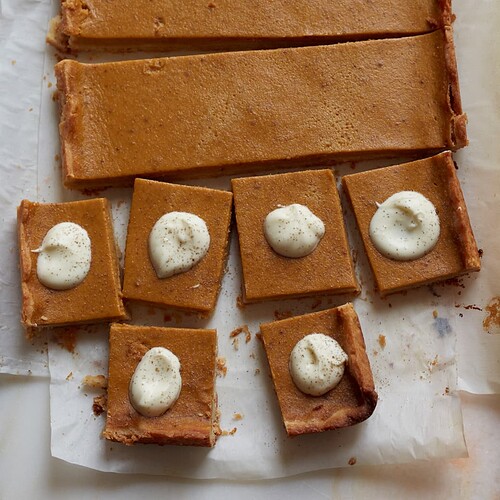 Ingredients:
1 ¾ cups all-purpose flour
1/3 cup granulated sugar
1/3 cup packed brown sugar
1 cup cold butter, cut into small pieces
1 15 oz. can pumpkin
1 14 oz. can (1 ¼ cups) sweetened condensed milk
2 eggs, slightly beaten
2 tsp. ground cinnamon
½ tsp. salt
½ tsp. ground allspice
1/3 cup chopped pecans
Directions:
Preheat oven to 350 degrees.
In a large bowl, stir together flour, granulated sugar, and brown sugar. Using a pastry blender, cut in butter until mixture resembles coarse crumbs. Set aside 1 cup of the crumb mixture.
Press remaining crumb mixture onto bottom and halfway up sides of ungreased 2-quart rectangular baking dish.
In another large bowl, stir together pumpkin, sweetened condensed milk, eggs, cinnamon, salt, and allspice. Pour into crust-lined baking dish.
Stir pecans into reserved crumb mixture. Sprinkle pecan mixture over pumpkin mixture.
Bake for 50 to 55 minutes or until knife inserted near center comes out clean. Cool in pan on wire rack. Chill in refrigerator for up to 2 hours. Store covered in refrigerator.
Until Next Time… Be Well!
Kind Regards,
RSN