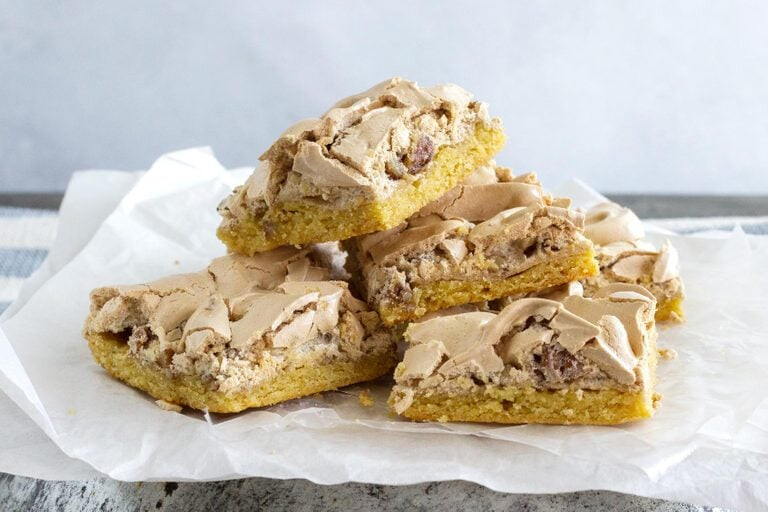 For the base:
1/4 cup shortening
1/4 cup butter, softened
1 cup granulated sugar
3 egg yolks, room temperature
1 teaspoon vanilla extract
1-1/4 cups all-purpose flour
1 teaspoon baking powder
1/2 teaspoon salt
For the topping:
3 egg whites, room temperature
1 cup packed brown sugar
3/4 cup chopped toasted pecans
Step 1: Make the base
Preheat the oven to 350°F. Cut a piece of parchment paper to fit the bottom and sides of a 9×13-inch pan. Spray the pan with nonstick spray, then press the parchment paper into the pan.
Cream the shortening, butter and granulated sugar in the bowl of a stand mixer until light and fluffy. Beat in the egg yolks, then add the vanilla extract. Combine the flour, baking powder and salt in a separate bowl, then add the dry mixture to the batter. Mix on low, scraping the bowl once or twice, until everything is combined.
Step 2: Press the dough into the pan
Use a spatula or your fingers to press the batter into the lined pan, making an even layer across the bottom.
Step 3: Make the meringue
Clean and dry your stand mixer bowl and whisk attachment well— it's one of our secrets for a successful meringue! Add the egg whites to the bowl; beat them on high speed with the whisk attachment until they're very frothy and beginning to thicken. Let the mixer run on medium-low while you add in the brown sugar one tablespoon at a time. Don't rush this step; just sprinkle in each tablespoon of brown sugar, then wait until it's completely mixed in before adding the next one.
Once all the sugar is in, increase the mixer speed and beat the meringue until stiff peaks form. Sprinkle in the toasted pecans, and carefully fold them in so that you don't lose too much volume in the meringue.
Step 4: Add the meringue layer
Spoon the meringue over the batter in the pan, and lightly spread it to reach all the edges. Use your spoon to add decorative swirls to the meringue.
Step 5: Bake
Place the pan in the oven and bake for 25-30 minutes, until the meringue is golden-brown in color. Let the bars cool in the pan on a cooling rack. Use the parchment edges to lift them from the pan, then slice them into 24 pieces. Store your Delta Bars in an airtight container for up to five days.