Bibingka (Philippine Dessert)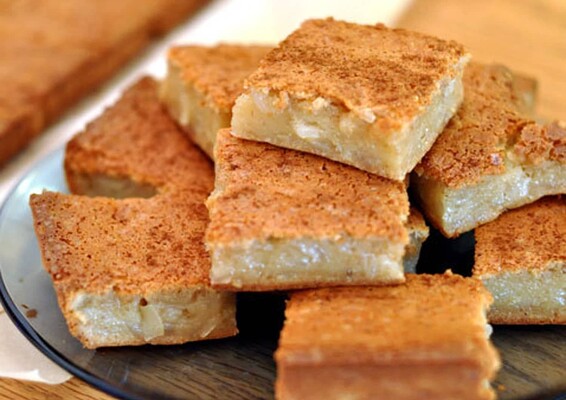 =-=-=-=-=-=-=-=-=-=-=-=-=-=-=-=-=-=-=-=-=-=-=-=
Love Pastry Recipes?


** Get Exclusive Recipes ** from a True Pastry Master - Here
=-=-=-=-=-=-=-=-=-=-=-=-=-=-=-=-=-=-=-=-=-=-=-=
Makes 6 Servings
4 c fresh coconut milk
1 1/2 c brown sugar
1 1/3 c mochi rice
1 wilted banana leaves
Reserve 1/2 cup coconut milk & 1/2 cup brown sugar for topping.

Wash rice & let stand in cold water (while cooking coconut milk in step 3).

Cook 3-1/2 cups coconut milk in top of double boiler for 30 minutes, stirring constantly.
Note: Keep water in lower portion at constant boil. Add 1 cup brown sugar. Drain mochi rice in strainer and stir into milk mixture.

Cook in double boiler for 30 minutes or until thick. Stirring constantly. Line baking pan with banana leaves and pour in pudding. Sprinkle top with mixture of 1/2 cup brown sugar and 1/2 cup coconut milk.

Bake in oven set at 350F for 5 minutes then lower temperature to 300F and continue baking for 30 minutes. Cool in pan & cut in 3 inches squares.
Enjoy your New Year!

Stay Safe!

RSN