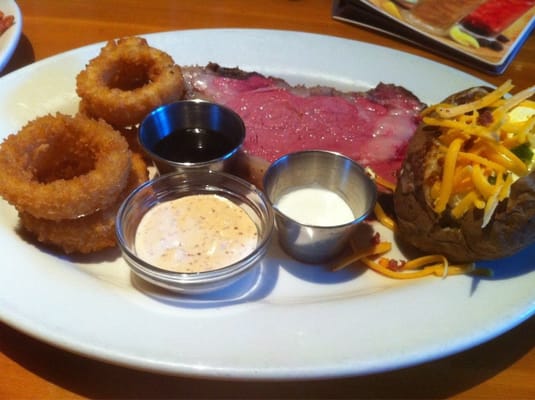 1 boneless beef rib, 8 to 12 pounds
1 cup prime rib seasoning
Prime Rib Seasoning
1/2 cup salt
1/4 cup black pepper
2 tablespoons granulated garlic
1 tablespoon paprika
1 tablespoon thyme
1 tablespoon marjoram
To make rib rub: Place ingredients in a dry bowl and mix.
Preheat oven to 450 degrees.
Trim excess fat from meat and pat dry with paper towels. Coat meat thoroughly on all sides with prime rib seasoning. Place meat on roasting pan and bake in preheated oven for 15 minutes.
Reduce temperature to 250 degrees and continue cooking until meat thermometer reads 140 degrees when inserted into center of rib (about 90 minutes). Remove from oven and let stand for 10 minutes before slicing.
Notes: Black Angus serves the prime rib with creamy horseradish and au jus sauces.