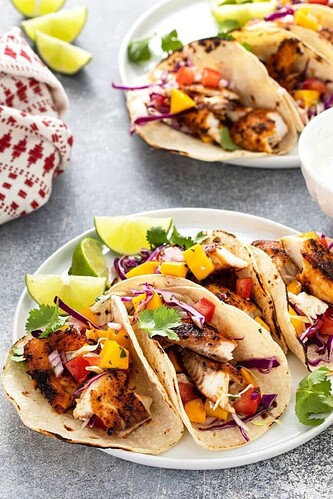 Blackened Seasoning:
1 tablespoons ground paprika regular or smoked
½ teaspoon ground cayenne pepper use less – 1/4-teaspoon or more 1 teaspoon according to your taste
1 teaspoon onion powder
1 teaspoon garlic powder
1 teaspoons sea or Kosher salt
1 teaspoon light brown sugar
¼ teaspoon ground black pepper
½ teaspoon dried thyme
½ teaspoon dried basil
½ teaspoon dried oregano
For the Fish Tacos:
2 pounds wild caught tilapia or about six (5-ounces) fillets. (see notes)
2 tablespoons extra virgin olive oil
8-10 (6-inches) Soft corn tortillas, warmed, grilled or pan fried
Lime wedges and chopped cilantro for serving (optional)
Lime crema, optional, recipe below
For the Mango Slaw:
1 cup thinly sliced or shredded cabbage (green, red or purple or a combination)
1 large ripe mango, peeled and diced
1 medium tomato, diced
1/4 cup red onion, diced
1 tablespoon fresh lime juice
1 teaspoon honey
1 teaspoon olive oil
1-2 tablespoons fresh cilantro, chopped
Salt to taste
Blackened Seasoning:
In a small bowl, mix together the seasoning spices.
Sprinkle the blackened seasoning evenly over both sides of the fish filets. Set aside. Meanwhile, make the mango slaw.
In a medium bowl, combine the cabbage, mango, tomato and onions. In a small mixing bowl whisk together the lime juice, honey and olive oil. Pour this mixture over the slaw. Stir in the chopped cilantro and season with salt to taste. Toss to combine. Keep the slaw covered, in the refrigerator until ready to serve.
In a large skillet (you can use cast-iron), heat 2 tablespoons of olive oil over medium-high heat. When heated, add the fish fillets (working in batches if needed). Cook for 2 – 3 minutes. Flip and cook the other side for about 2 – 3 minutes or until the fish flakes easily. The surface of the fish will likely blackened in color quickly so make sure to keep an eye on it.
Remove fish from skillet and break into smaller pieces. Divide the fish evenly among the warm tortillas. Serve with mango slaw and Lime Crema if desired. Garnish with lime wedges and chopped cilantro if desired.
Notes
For this recipe you can use any mild-flavored, firm white-flesh fish such as cod, tilapia, halibut or mahi-mahi.
Warm the corn tortillas either on a skillet with a bit of oil, a grill or in the microwave wrapped in damp paper towels.
Fish cooks quickly. Keep an eye on it and don't over cook it.
Lime Crema
8 ounces sour cream or Mexican crema
1 fresh lime
1 garlic clove, minced
1/4 teaspoon sea salt or to taste
1-2 teaspoons chopped cilantro (optional)
Zest and juice the lime. You will need approximately 1 tablespoon of fresh lime juice and 1 teaspoon of lime zest; however, the amounts don't need to be exact.
Place all the ingredients in a small bowl and stir everything together until well combined and creamy. Serve or place in the refrigerator covered until ready to serve.