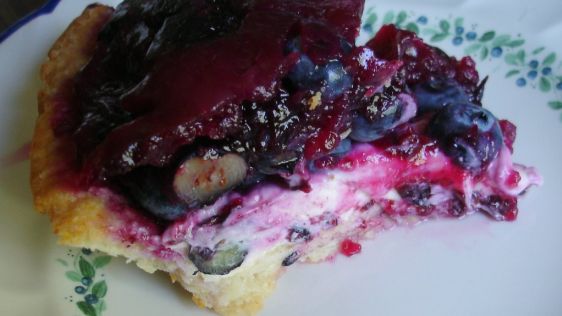 Pie
8 ounces cream cheese
14 ounces sweetened condensed milk
1/3 cup lemon juice
1 teaspoon vanilla extract
2 cups blueberries fresh or dry-pack frozen blueberries, rinsed and drain
1 baked 9-inch pie shell
Blueberry Glaze
1 cup sugar
2 tablespoons cornstarch
3/4 cup water
2 cups blueberries fresh or dry-pack frozen blueberries, rinsed and drained.
Pie
Let cream cheese soften at room temperature. In a medium bowl, whip cream cheese until fluffy. Gradually add sweetened condensed milk; continue to beat until blended. Mix in lemon juice and vanilla.
Fold in blueberries. Pour into pie shell. Chill 2 to 3 hours.
Arrange the remaining 1-1/2 cups blueberries over entire top of chilled pie. Pour cooled glaze evenly over berries.
Blueberry Glaze
In a small saucepan, combine sugar and cornstarch thoroughly. Gradually stir in water. Measure 1/2 cup blueberries; crush. Add crushed berries.
Cook over medium heat; constantly stir until mixture thickens and comes to a boil. Continue to stir and cook until the mixture is clear, which takes about 2 minutes. Strain. Cool.