Bonefish Grill's Snapper with Lime Tomato Garlic Sauce
Today's Secret Recipe (shown below) brings a flavorful twist to grilled seafood. At Bonefish Grill they serve a grilled snapper dish with a lime tomato garlic sauce that's out of this world. The combination of fresh flavors in this sauce compliments the fish very well. The best part about this sauce recipe is you can easily use it with grouper, salmon, or any fish of your choice. Pair this dish with a glass of your favorite Pinot Grigio.
We also have some more snapper recipes on our forum for you to check out: Go Here
Enjoy!
=-=-=-=-=-=-=-=-=-=
New Secret Recipe
=-=-=-=-=-=-=-=-=-=
Bonefish Grill's Snapper with Lime Tomato Garlic Sauce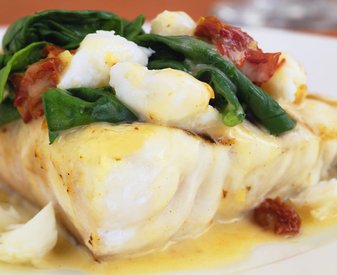 =-=-=-=-=-=-=-=-=-=-=-=-=-=-=-=-=-=-=-=-=-=
The Alpine Secret For Healthy Weight Loss.
=-=-=-=-=-=-=-=-=-=-=-=-=-=-=-=-=-=-=-=-=-=
4 x 6oz. portions snapper fillet
seafood seasoning (to taste)
1/4 cup spinach – wilted or sauteed
1 oz. lump crab meat
1 1/2 oz lime tomato garlic sauce (recipe below)
Instructions:
Season and butter Snapper fillets.

Prepare grill with a few brush strokes of oil to reduce sticking.

Place fillets on grill. Cook 3 minutes on each side.

Remove from grill and top immediately with spinach, lump crab and Lime Tomato Garlic sauce.
Lime Tomato Garlic Sauce:
1/2 cup rough chopped sun-dried tomatoes
1/2 cup rough chopped tomatoes
1/4 cup lemon juice
1/4 cup lime juice
1/4 cup chopped garlic
1/2 cup white wine
5 tbsp. sugar
1 cup heavy cream
2 tsp. salt
1 tsp. white pepper
2 tsp. cold butter cut in small pieces
Place sun-dried tomatoes, tomatoes, lemon juice, lime juice, garlic, wine and sugar in saucepan. Bring to a simmer and reduce by 1/2 over medium high heat.

Add heavy cream, reduce again until thick.

Reduce heat to medium low heat slowly add butter mixing between additions until melted. Remove from heat when all butter is incorporated and keep warm while preparing the snapper.
Serves 4
Source: Bonefish Grill
Like Copycat Recipes? Get our Secret Recipes Cookbook Here.
Until Next Time… Be Well!
Kind Regards,
RSN