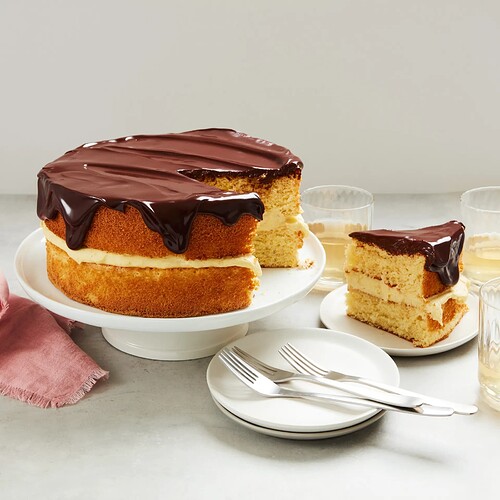 3 large eggs, separate the yolks and whites
1 tsp. pure vanilla extract
1/2 cup sugar
Pinch of salt
3/4 cup cake flour
1/2 cup sugar
1/4 cup all-purpose flour
1-1/2 cups milk
6 large egg yolks
2 tsp. pure vanilla extract
Pinch of salt
1/2 cup sugar
3 tbsp. light corn syrup
2 tbsp. water
4 ounces semisweet chocolate chips
Preparation:
Preheat your oven to 350 degrees and grease a 9 inch round cake pan. Line the pan with waxed paper.
Beat the 3 yolks and vanilla until just blended. Add half the sugar and beat until the mixture is thick and pale.
Using dry beaters, beat the 3 egg whites and salt until soft peaks form. Add remaining sugar and beat until stiff peaks form.
Fold yolk mixture into whites and fold gently using a rubber spatula. Sift flour over the mixture and fold in gently until just mixed. Pour into pan.
Bake about 25 minutes until center of cake springs back when pressed.
Loosen cake around sides with a knife and invert to a wire cooling rack, leaving waxed paper on cake. Turn right side up and cool thoroughly.
To prepare the filling, mix together in a saucepan the sugar and flour. Gradually whisk in the milk, then egg yolks, vanilla and salt.
Bring to a medium boil for a minute, stirring. Strain into a bowl and place a piece of plastic film onto the filling.
Chill.
Once the cake is cool, cut it in half horizontally. Remove the wax paper carefully. Place the bottom on a serving dish and top with the filling. Top with remaining cake layer.
To make the glaze: In a saucepan combine the sugar, corn syrup and water and bring to a boil until sugar has dissolved. Remove from heat and add the chocolate.
Allow to sit for one minute, then whisk until smooth. Carefully pour the glaze over the cake allowing it to drip down the sides. Let stand until glaze is firm.
This must be refrigerated.