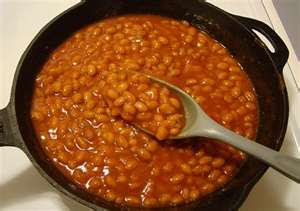 24 ounce Jar of great northern beans (rinsed and drained)
3 slices of boiled ham (finely chopped)
28 ounce can of Campbell's pork and beans
½ cup open pit hickory-flavored barbecue sauce
1/4 cups dry chopped onions (reconstitute in ¼ cups of boiling water for about 5 minutes)
1 cup Hunt's ketchup
Let the onions soften. While doing so, empty the jar of great northern beans and place it in a 4-quart baking pan or dish. Add the Campbell's pork and beans to the baking dish with the northern beans. Stir in the barbecue sauce, onions, ham and ketchup. Bake in a preheat oven at 350 degrees Fahrenheit, uncovered, for about 30 to 35 minutes or until it becomes really hot. While baking, stir it two to three times. After you're done baking, remove it from the oven and let it chill. Cover it and refrigerate to use it for a week. If you want to use it for about 4 month, you can freeze the baked beans.
Serves 6