Today's Restaurant Secret Recipe comes from the Bouchon in Beverly Hills. Bouchon is a high end French bistro and bakery run by chef Thomas Keller. Chef Keller serves up a seasonal French menu with in-house baked breads and desserts.
One of the yummy treats served at Bouchon is the TLC cookies. These are oatmeal cookies with chopped pecans and the essence of fresh vanilla bean. These cookies are best enjoyed fresh so make sure you bake them no more than 1 day before you plan on serving them.
You can always find a great selection of cookie recipes on our forum: Go Here
Enjoy!
=-=-=-=-=-=-=-=-=-=-=-=-=-=-=-=-=-=-=-=-=-=-=-=
Lose Weight While Still Enjoying Your Favorite Restaurants
Try this Water Hack
=-=-=-=-=-=-=-=-=-=-=-=-=-=-=-=-=-=-=-=-=-=-=-=
=-=-=-=-=-=-=-=-=-=-=
New Secret Recipe
=-=-=-=-=-=-=-=-=-=-=
Bouchon TLCs
Like this recipe? Get our Restaurant Secret Recipes Cookbook – Go Here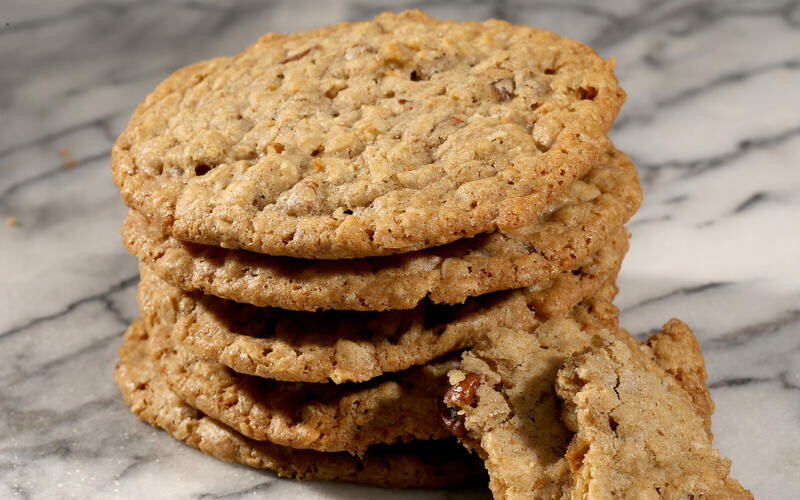 1 cup plus 1 1/2 tablespoons (153 grams) flour
1/2 teaspoon baking soda
3/8 teaspoon ground cinnamon
Heaping 3/4 cup (138 grams) granulated sugar
1/4 cup plus 1 1/2 tablespoons (75 grams) dark brown sugar
7 1/2 ounces (212 grams, or a scant 2 sticks) butter, at room temperature
1/2 vanilla bean, split lengthwise
3 tablespoons plus 1 teaspoon (52 grams, or about 1 large) eggs
1 3/4 cups (134 grams) rolled oats
1 cup plus 2 tablespoons (134 grams) coarsely chopped pecans
Place the flour in a medium bowl, sift in the baking soda and cinnamon and whisk together. Whisk together the sugars in a small bowl, breaking up any lumps.

Place the butter in the bowl of a stand mixer fitted with the paddle attachment. Turn to medium-low speed and cream the butter until it has the consistency of mayonnaise and holds a peak when the paddle is lifted. Add the sugars and mix until fluffy, 3 to 4 minutes. Scrape down the sides and bottom of the bowl. Scrape the seeds from the vanilla bean, add them to the butter mixture and mix on low speed to distribute the seeds evenly, stopping to break up any larger pieces.

Add the eggs and mix on low speed until just combined, 15 to 30 seconds. Scrape down the bowl again. The mixture may look broken, but that is fine (overwhipping the eggs could cause the cookies to expand too much during baking and then deflate).

Add the flour mixture in two additions, mixing on low speed after each addition until just combined, 15 to 30 seconds. Scrape the bottom of the bowl to incorporate any dry ingredients that have settled there. Add the oats and mix just to combine, then add the pecans (these may need to be mixed in by hand as the dough will be thick). Refrigerate the dough for 30 minutes.

Position the racks in the upper and lower thirds of the oven and heat the oven to 325 degrees. Line two cookie sheets with silicone mats or parchment paper.

Divide the dough into 6 equal portions, about 145 grams each (see note below for baking smaller cookies). Roll each one into a ball between the palms of your hands. The cookies will spread while baking and are very large; bake only 3 on each pan. Bring the dough to room temperature before baking.

Bake until golden brown, 18 to 20 minutes in a conventional oven, 14 to 16 minutes in a convection oven, reversing the positions of the pans halfway through baking. Set the pans on a cooling rack and cool completely.

The cookies are best the day they are baked, but they can be stored in a covered container for up to 3 days.
Makes 6-12 Cookies.
Have a comment or question about this recipe? Post it here
Source: LA Times
Get more secret restaurant recipes on our Secret Recipe Forum: Go Here
Until Next Time… Be Well!
Kind Regards,
RSN