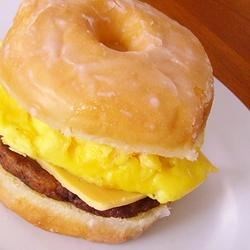 1/4 cup milk
1 egg, beaten
1 slice cooked bacon, crumbled
1 pinch dried chives
1 breakfast sausage patty
1 glazed donut, halved
1 slice American cheese
Stir milk, egg, crumbled bacon, and chives together in a 2-cup glass measuring cup.
Cook in microwave oven until the egg mixture is solid in the center, 90 seconds to 2 minutes.
Heat a small skillet over medium heat; cook sausage patty in hot skillet until hot in the center, 2 to 3 minutes per side. An instant-read thermometer inserted into the center should read 160 degrees F (70 degrees C).
Sandwich the cooked egg, sausage, and cheese between the donut halves.