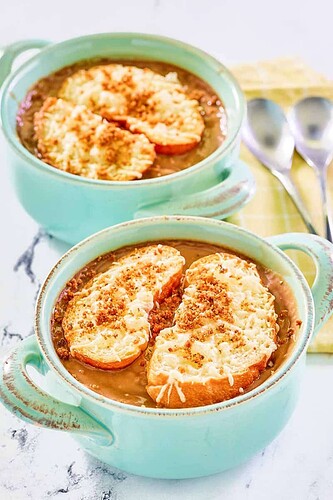 16 ounces butter divided use
4 cups sliced onions
1 cup bread crumbs
1 3/4 cups all-purpose flour
12 cups beef stock
1/2 teaspoon cayenne pepper
1 1/2 tablespoons salt
1 egg yolk
2 tablespoons cream
8 slices French bread toasted
½ cup grated Parmesan cheese
In a 6-quart soup pot, melt 12 ounces of butter. Add the onions and reduce the heat to very low, ensuring that the onions do not brown. Cook until the onions have caramelized.
While the onions are cooking, preheat the oven to 350°F.
Melt 4 ounces of butter in a small bowl in the microwave for about 30 seconds on high power. Add the bread crumbs and stir to coat with the melted butter. Transfer the bread crumbs to a small oven-safe dish, and bake for about 10 to 12 minutes, until they begin to brown and become fragrant. Remove from the oven and set aside.
When the onions have caramelized, add the flour to the pot and cook for 5 to 10 minutes, stirring occasionally.
Add the stock, cayenne, and salt and bring to a boil. Reduce the heat and simmer for about 15 minutes. Remove the pot from the heat.
Beat the egg yolk and cream in a small bowl. Add a little of the soup to the bowl and mix quickly. Then add the egg mixture to the soup pot.
Ladle the soup into small bowls, place a piece of toasted French bread over each bowl, and sprinkle with the grated Parmesan cheese and buttered bread crumbs. Place the bowls under the broiler until the cheese melts and begins to brown.