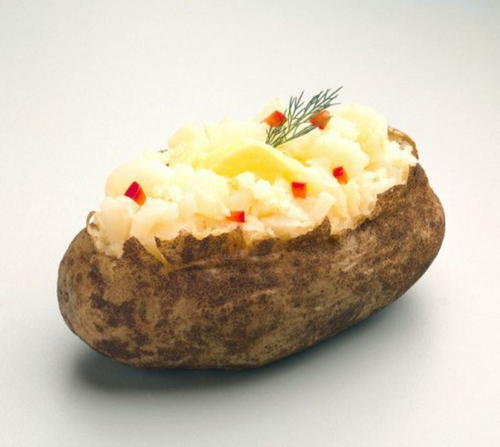 2 large Idaho Potatoes
4 strips of Bacon cut into quarters
1/2 cup chopped Green Onions
2 tablespoon grated Parmesan Cheese
1/2 cup Sour Cream
1/2 teaspoon Salt
1/2 teaspoon White Pepper
Butter
Paprika
Scrub potatoes and bake 1 hour at 400 degrees. Grill bacon pieces until crisp. Drain off bacon fat except 3 tablespoons. Add green onions and saute slowly. Cut potatoes in half lengthwise and scoop outside into a skillet, taking care to retain shells intact. Add cheese, sour cream, salt and pepper to potato, green onions and bacon, mixing and mashing to blend thoroughly. Return to skillet to low heat and heat through. Stuff mixture into potato skins. Drizzle with melted butter, and sprinkle with paprika. Bake 15 to 20 minutes at 350 degrees.
2 servings