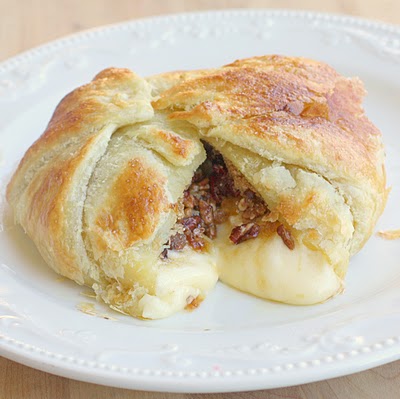 1 sheet frozen puff pastry, pre-packaged
1 tablespoon butter
1/2 cup coarsely chopped pecans
1/8 teaspoon ground cinnamon
1 (8-ounce) Brie cheese
1/4 cup brown sugar
1 egg, beaten
Crackers and sliced apples for serving
Preheat oven to 375 degrees F.
Defrost puff pastry for approximately 15 to 20 minutes and unfold.
In a saucepan, melt the butter over medium heat. Saute the pecans in the butter until golden brown, approximately 5 minutes. Add the cinnamon and stir until pecans are coated well. *I like to scrape the skin off the top of the Brie with a knife before the next step. Place the pecan mixture on top of the Brie and sprinkle the brown sugar over the mixture. Lay the puff pastry out on a flat surface. Place the brie in the center of the pastry. Gather up the edges of the brie, pressing around the brie and gather at the top. You can use cooking twine to tie off the top but I just fold and pinch it together so it doesn't come open. Brush the beaten egg over top and side of Brie. You can sprinkle white sugar on it if you want. Place Brie on a cookie sheet and bake for 20 minutes until pastry is golden brown.
Serve with crackers and fruit.
Paula Deen