Today's 5 star restaurant secret recipe comes from chef Frank Brigtsen of Brigtsen's in New Orleans. At Brigtsen's they serve a menu of modern Creole dishes in a cozy Victorian-cottage setting.
One of the delicious dishes available at Brigtsen's is the butternut shrimp bisque. Butternut squash bisque tastes great on its own, but the addition of shrimp takes this dish to another level. Shrimps with the heads on are available at most Asian markets.
We also have a great selection of bisque recipes on our forum: Go Here
Enjoy!
=-=-=-=-=-=-=-=-=-=-=-=-=-=
Weight Loss for Idiots…
Discover how to lose 9 lbs in 11 days… Go Here
=-=-=-=-=-=-=-=-=-=-=-=-=-=
=-=-=-=-=-=-=-=-=-=-=-=-=-=
New 5 Star Secret Recipe
=-=-=-=-=-=-=-=-=-=-=-=-=-=
Brigtsen's Butternut Shrimp Bisque
Like this recipe? Get all our 5 Star Restaurant Secret Recipes – Go Here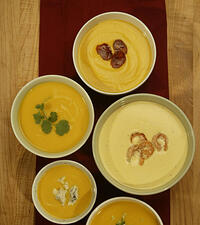 1 pound medium shrimp, heads on
5 tablespoons unsalted butter, divided
2 cups diced onions
1 bay leaf
4 cups (about 1 medium) peeled, seeded and diced butternut squash
2 1/2 teaspoons salt
1/8 teaspoon ground white pepper
3/8 teaspoon ground cayenne
1/4 teaspoon dried basil
1/4 teaspoon dried thyme
1/4 teaspoon minced garlic
1 quart heavy cream
1 cup half-and-half
1/2 teaspoon fresh basil, very finely chopped
18 to 24 whole shrimp, butterflied and sauteed, for garnish
Shell the shrimp. Place the heads and shells in a medium pot and cover with cold water. Bring to a boil, reduce the heat and simmer 15 minutes. Strain the broth and reserve.
Heat a 4-quart saucepan over medium-high heat. Add 3 tablespoons butter, the onions and bay leaf. Cook, stirring constantly, until the onions start to brown, about 5 to 6 minutes.
Reduce the heat to medium and add the squash. Cook, stirring occasionally, until the squash begins to soften and turn brown, 7 to 8 minutes.
Reduce the heat to low and add 1 tablespoon butter and the peeled shrimp. Cook, stirring occasionally, until the shrimps turn pink, 3 to 4 minutes.
Add the salt, white pepper, cayenne, basil, thyme and garlic. Cook 3 to 4 minutes, stirring constantly and scraping the bottom and sides of the pan with a metal spoon. (This procedure will intensify the taste of the soup.) Add 1 1/2 cups reserved shrimp stock and simmer 2 to 3 minutes.
Remove the pot from the heat. Discard the bay leaf. Transfer the contents to a food processor and puree until smooth. Return the puree to a clean saucepan and add the cream and half-and-half. Bring to a boil, lower the heat and simmer 2 to 3 minutes. Just before serving, add the fresh basil and remaining 1 tablespoon butter. Top each serving with several sauteed shrimp.
Serves 6-8
Have a comment or question about this recipe? Post it here
Source: LA Times
Get more secret restaurant recipes Here
Until Next Time… Be Well!
Kind Regards,