Today's secret recipe comes from Brown Sugar Kitchen in Oakland, CA. This restaurant served new-style, down-home dishes. They are well-known for their delicious waffles that are served with a sticky syrup made from boiled-down apple cider.
Enjoy!
=-=-=-=-=-=-=-=-=-=-=-=-=-=-=-=-=-=
Lose Weight While Still Enjoying Your Favorite Restaurants
Try this Water Hack
=-=-=-=-=-=-=-=-=-=-=-=-=-=-=-=-=-=
=-=-=-=-=-=-=-=-=-=-=-=-=-=
New Secret Recipe
=-=-=-=-=-=-=-=-=-=-=-=-=-=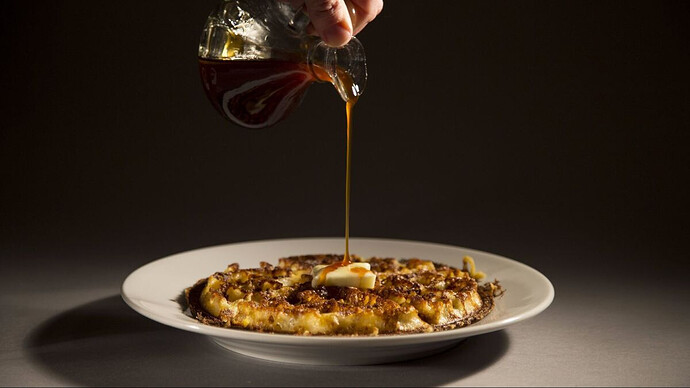 Brown Sugar Kitchen's Cornmeal Waffles with Apple Cider Syrup
Like this recipe? Get our 5 Cookbooks - Restaurant Secret Recipes – Here
APPLE CIDER SYRUP:
1 ½ cups firmly packed brown sugar
1 ½ teaspoons apple cider vinegar
1 quart apple cider
2 cinnamon sticks
½ cup (1 stick) butter
In a large pot, combine the brown sugar, vinegar, cider, cinnamon and butter. Bring to a boil, then reduce the mixture to a simmer, and cook, stirring occasionally, until reduced to 1 ½ cups, about 45 minutes. Discard the cinnamon. The syrup can be made up to 1 month in advance; cover tightly and refrigerate until needed, then warm and stir well before serving.
WAFFLES:
2 teaspoons active-dry yeast
¾ cup warm water
3 eggs
3 cups milk
1 cup cornmeal
2 cups plus 2 heaping tablespoons (9 ounces) flour
1 ½ teaspoons kosher salt
1 ½ teaspoons sugar
¾ cup (1 ½ sticks) butter, melted
Vegetable oil for the waffle iron
½ teaspoon baking soda
In a small bowl, combine the yeast and warm water. Set aside until foamy, about 10 minutes.
In a large bowl, whisk together the eggs and milk. In another large bowl, whisk together the cornmeal, flour, salt and sugar. Add the yeast mixture to the eggs and milk, then whisk in the flour mixture until thoroughly combined. Whisk in the melted butter until just combined. Cover the bowl with plastic wrap and refrigerate for at least 4 hours, up to overnight.
Heat the oven to 250 degrees. Heat the waffle iron and grease lightly with oil. Set a wire rack over a baking sheet.
Remove the batter from the refrigerator and whisk in the baking soda. Ladle some batter into the waffle iron, close the lid, and cook until the waffles are golden and cooked through, about 3 minutes or according to the manufacturer's instructions. This makes about a dozen waffles, depending on the size of your waffle iron.
Transfer the waffle to the rack to keep warm in the oven. Repeat with the remaining batter, placing the cooked waffles in a single layer on the rack.
Serve the waffles warm with warm apple cider syrup.
Have a comment or question about this recipe? Post it here.
Source: LA Times
Until Next Time… Be Well!
Kind Regards,