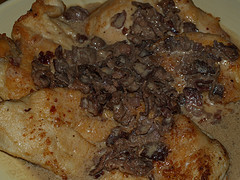 Olive oil
4 thin chicken breast cutlets
2 ounces low salt bacon, cut into 1/4-inch pieces
1/2 cup all-purpose flour
Coarse salt
Fresh ground pepper
1/2 cup dry Buca di Beppo Marsala wine (not available to the public)
2 to 4 tablespoons heavy cream
Minced fresh flat-leaf parsley
Coat a large skillet lightly with olive oil and set over medium-high heat. Add bacon and cook just until crisp and lightly browned. Remove with a slotted spoon; set aside. Leave fat in pan.
Put flour on a plate. Pat cutlets dry. Season lightly with salt and pepper, then dredge in flour.
Heat pan with bacon fat over medium-high heat. Add a touch more olive oil if necessary to make approximately 2 tablespoons. When fat is hot, shake excess flour off cutlets and place in pan. Sauté, turning once until browned on both sides. Thin cutlets should only take a few minutes per side. Remove cutlets. Pour excess fat from pan. With pan over medium-high heat, add the Marsala and scrape up the browned bits from the bottom of the pan. Cook Marsala until it is reduced by one quarter.
Stir in cream and simmer until you get a nicely thickened sauce. Return the chicken and bacon to the pan and turn the cutlets to coat and reheat for a minute. Serve with the sauce over the top, with a sprinkling of parsley.