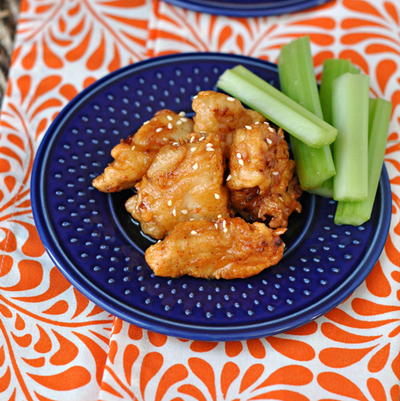 For the chicken batter:
3 boneless skinless chicken breasts, cut into 1? chunks
Oil for frying
1 cup all purpose flour
2 tsp salt
1/2 tsp ground black pepper
1 egg
1 cup milk
For the sauce:
2 tsp cornstarch
4 tsp rice wine vinegar
1/2 cup light corn syrup
1/3 cup granulated sugar
1/4 cup chili garlic sauce
1 Tbsp soy sauce
1 tsp lemon juice
1/4 tsp ground ginger
1/4 tsp salt
1/4 tsp minced garlic
Toasted sesame seeds, for optional garnish
In a large bowl, combine flour, salt, and black pepper.
In a small bowl whisk together the egg and milk. Dip each piece of chicken first in the egg mixture,
and then roll in the flour mixture. Repeat so that each piece of chicken is double coated.
Refrigerate the breaded chicken for 20 minutes or longer for a crispier coating.
To prepare the sauce: Dissolve the cornstarch in rice wine vinegar in a small bowl.
Combine the vinegar solution with the remaining ingredients in a small saucepan over medium/low heat.
Heat mixture, stirring often, until the sauce reaches a boil, the remove it from the heat. Set aside.
Heat oil in a large, deep skillet to 375 F.
Fry the chicken in the hot oil in batches until the outside is nicely browned and fully cooked,
165 F., about 5 minutes per batch.
Drain on paper towels.
Toss the chicken pieces with the sauce and serve immediately.
Serves 6