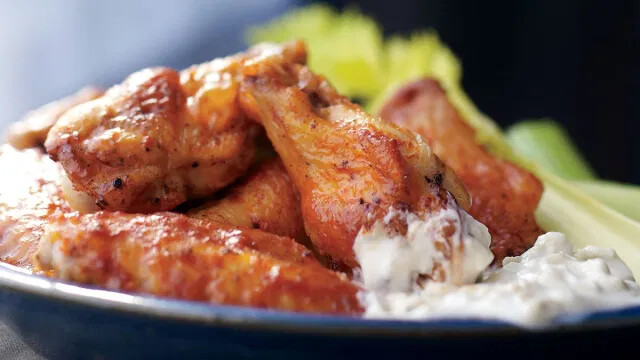 2 lb chicken wings
1 tsp salt
1 tsp black pepper
1 tsp chili powder
2 Tbsp butter
2 Tbsp hot sauce
Juice of 1 lemon
1 cup plain Greek-style yogurt
2 Tbsp crumbled blue cheese
Salt and black pepper to taste
Celery sticks (optional)
Preheat the oven to 450 degrees Fahrenheit. Toss the chicken with the salt, pepper, and chili powder, and arrange on a baking sheet.
Roast until the skin is lightly blistered and the meat is cooked all the way through, about 15 minutes.
Melt the butter in a large nonstick skillet or sauté pan, and add the hot sauce and half of the lemon juice.
Remove the wings from the oven and add directly to the hot pan, tossing to thoroughly coat every piece in the sauce.
Mix the yogurt, blue cheese, and remaining lemon juice.
Season with salt and pepper.
Serve the wings and the celery (if using) with the blue cheese sauce on the side for dipping.