Spice Up Your Burger Game! Learn How to Make Burger King's Iconic Angry Whopper at Home. Mouthwatering flame-grilled beef patty, stacked with thick-cut bacon, melted cheese, crisp lettuce, juicy tomatoes, crunchy onion petals, sizzling jalapeños, creamy mayonnaise, and fiery angry sauce. All sandwiched between a toasted sesame seed bun. Perfect for those who love a little heat in their burgers.
Try it now!
=-=-=-=-=-=-=-=-=-=
Secret Recipe Alert
=-=-=-=-=-=-=-=-=-=
Burger King Angry Whopper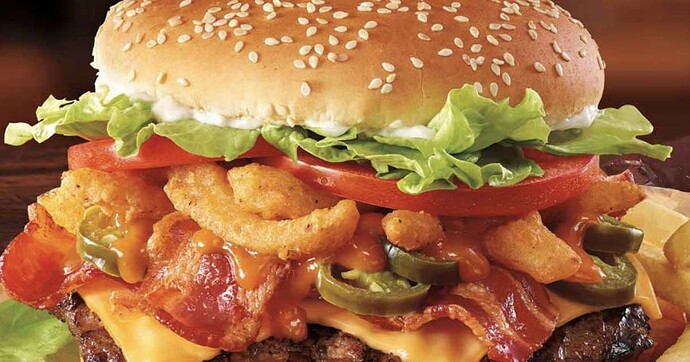 1/4 lb beef patty
Thick-cut Smoked Bacon
American Cheese
Iceberg Lettuce
Ripe Tomatoes
Spicy Onion Petals
Spicy Jalapeno Slices
Angry Whopper Sauce (recipe below)
Mayonnaise
Toasted, sesame seed bun
Spicy Onion Petals Recipe
1 large sweet onion, peeled, quartered and sliced
1 C. all purpose flour
1 1/2 tsp. cayenne pepper
1 tsp. smoked paprika
1 tsp. salt
1/2 tsp. pepper
1/4 tsp. cumin
1/4 tsp. oregano
1 large egg
1/2 C. milk
veg. oil for frying
In a ziploc bag add the flour and seasonings. In a bowl, whisk together the egg and milk. Place the sliced onions in the ziploc bag, seal and toss to coat. With a slotted spoon remove the onions from the bag to a plate. In batches, dip each onion into the egg mixture then place back in the bag, shake to coat well and remove to a plate or baking sheet. Repeat with remaining onions. Heat 1" of oil in a skillet to 350 degrees. In batches, fry the onion petals until nice and golden brown, about 3-4 minutes. Remove to a paper towel
Angry Whopper Sauce Recipe (Mix all the following ingredients)
3 tablespoons brown sugar, packed
3 tablespoons ketchup
2 tablespoons prepared yellow mustard (not the powdered yellow mustard)
1 tablespoon hot sauce (Frank's Hot Sauce)
2 tablespoons mayonnaise (not Miracle Whip)
1/2 teaspoon cayenne pepper
1/2 teaspoon chili powder
Preheat a barbecue grill on high.

Toast both halves of the bun, face down, in a hot skillet. Set aside.

Form the beef into a thin patty slightly larger than the bun.

Lightly salt the hamburger patty and cook on the barbecue grill for 2 to 3 minutes per side.

Build the burger in the following stacking order from the bottom up: bottom bun, hamburger patty, Pepper Jack cheese, jalapenos, bacon, Mayonnaise, Angry Whopper sauce, onion petals, tomatoes, lettuce, top bun.
Until Next Time… Be Well!
RSN