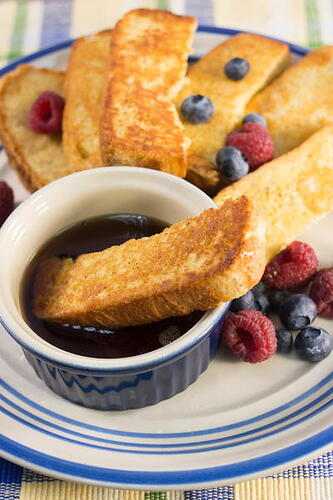 4 slices Texas Toast-style, thick, sliced bread
3 eggs
1/2 cup milk
1 tablespoon sugar
1 teaspoon vanilla
1/2 teaspoon cinnamon
pinch of salt
Fresh fruit and maple syrup for serving
Preheat oven to 350 degrees F. Spray a baking sheet with cooking spray.
Cut each slice of bread into 3 strips. In a shallow dish, beat eggs well, adding milk, sugar, vanilla,
cinnamon and salt and beating until egg is completely mixed.
Dip each bread strip into the egg mixture until well coated and lay on the prepared baking sheet.
Spray bread with cooking spray and bake for 8 minutes. Spray again and turn over.
Bake for 8 to 10 minutes more until both sides are light golden brown.
Serve while warm with fresh fruit and warmed maple syrup for dunking.