Like Pork Chops? Well, I got a Secret Recipe from Butter, an American restaurant that's helmed by Food Network star and Executive Chef Alex Guarnaschelli. At Butter they use greenmarket offerings to create a seasonal menu. One of the delicious dishes served at Butter is the Pork Chops with Shiitake Mushrooms. In this simple dish, thick pork chops are pan-seared, then finished in the oven. Served with a pungent grainy mustard vinaigrette and crisp-edged shiitake mushrooms, it makes a tasty, hearty weeknight meal.
We also have a great collection of pork recipes you can try.
Enjoy!
=-=-=-=-=-=-=-=-=-=
Secret Recipe Alert
=-=-=-=-=-=-=-=-=-=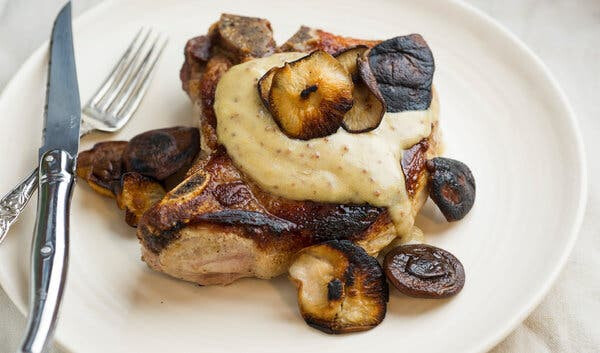 1 tablespoon Dijon mustard
2 teaspoons whole-grain mustard
½ cup plus 3 tablespoons safflower or grapeseed oil
1 tablespoon sherry vinegar
4 bone-in pork chops (1 1/4-inch thick)
Kosher salt and black pepper, to taste
½ pound small shiitake mushrooms, stemmed
Heat oven to 375 degrees. In a medium bowl, whisk together the mustards, 1/2 cup of oil and sherry vinegar until thoroughly blended. Set aside.

Heat a large cast-iron skillet over medium heat. Add 1 tablespoon remaining oil. Meanwhile, season pork chops on both sides with salt and pepper. Set aside to absorb the seasoning for a few minutes.

When the oil begins to smoke, add the shiitake mushrooms to the pan, brown side down, in a single layer. Cook, undisturbed, for 3 to 5 minutes over medium heat until the caps are seared all over. Using kitchen tongs, turn mushrooms on their other side and cook for a few more minutes until golden. Transfer mushrooms to a plate and set aside. Wipe skillet of any excess oil with a wad of paper towels and set over medium heat once again.

Add remaining 2 tablespoons of oil to the skillet. When it begins to smoke, add the pork chops in a single layer (you may have to do this in two batches). Cook the pork chops over high heat until the first side is browned, 6 to 8 minutes, depending on thickness. Flip over the pork chops and place the skillet in the center of the oven. Cook for an additional 6 to 8 minutes or until done to taste. Remove the skillet from the oven and allow the pork chops to rest, 5 to 10 minutes.

Arrange the pork chops on a serving platter. Top with mustard vinaigrette and mushrooms. Serve immediately.
Serves 4
Have a comment or question about this recipe? Post it here
Source: NY Times
Kind Regards,
RSN