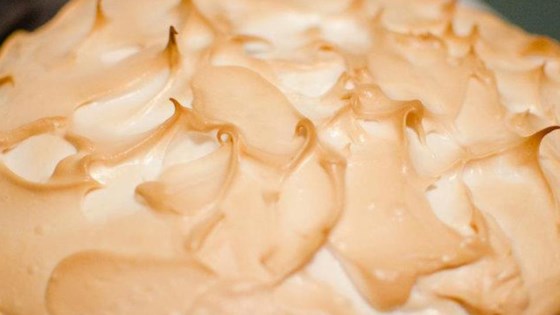 2 cups whole milk
3/4 cup light brown sugar
3 tablespoons cornstarch
3 egg yolks, lightly beaten
1/4 cup salted butter
1 teaspoon vanilla extract
1 (9 inch) baked pie crust
Meringue:
3 egg whites
1/4 teaspoon cream of tartar
1/2 cup white sugar
Combine milk, brown sugar, and cornstarch in a medium saucepan over medium heat.
Cook, whisking constantly, until mixture thickens and coats the back of a spoon, about 10 minutes.
Remove about 1/2 cup of the filling mixture and slowly whisk into beaten egg yolks to temper them.
Pour mixture back into the pan and bring to a boil.
Reduce heat and continue cooking, whisking constantly, until thickened to a pudding-like consistency, about 10 minutes.
Remove from heat; stir in butter and vanilla extract until well mixed.
Cover filling and allow to cool completely, stirring occasionally.
Place in an ice bath to speed up the cooling, if desired.
Pour mixture into pie crust and set aside.
Preheat the oven to 350.
Beat egg whites and cream of tartar together in the bowl of a stand mixer, or using an electric mixer, until soft peaks start to form.
Add sugar gradually, continuing to beat until peaks turn stiff and meringue is glossy.
Cover the pie filling with peaks of meringue, making sure to cover all the filling to the edges of the crust.
Bake in the preheated oven until meringue peaks are browned, 10 to 15 minutes.
Let cool to room temperature on a wire rack, about 1 hour.
Transfer to the fridge to cool completely, about 4 hours.