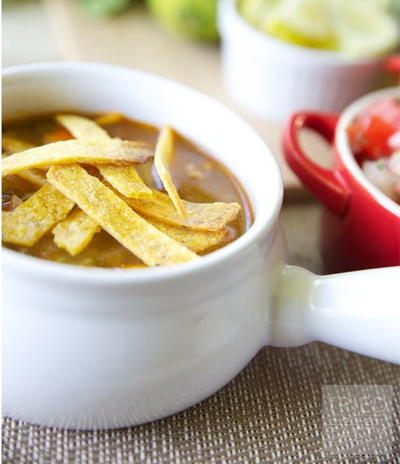 1 c. onion, finely chopped
1/2 c. carrots, finely chopped
1 tbsp. olive oil
1 tsp. cumin
1 tsp. chili powder
5 c. chicken broth
Pepper, to taste
3 tbsp. fresh cilantro, finely chopped
Juice of 1/2 lime
Pepper Jack cheese, shredded
Cilantro, for garnish
Lime wedges, for garnish
Cafe Rio Chicken
Pico de Gallo
Cafe Rio Guacamole
Tortilla strips
In a large pot, saute onion and carrots in olive oil until tender. Stir in cumin and chili powder; saute an additional minute. Add chicken broth, cilantro, lime juice and pepper. Simmer 30 minutes. In individual bowls, layer chicken, a scoop of Pico de Gallo, a scoop of guacamole and shredded cheese. Ladle 1 - 1 1/2 c. of broth directly over layers. Garnish with crunchy tortilla strips, cilantro and lime wedges.
Cafe Rio Chicken
1 small bottle Kraft Zesty Italian Dressing
1 tbsp. chili powder
1 tbsp. cumin
3 cloves garlic, minced
5 lbs chicken breast
Cook all ingredients in a crock pot for 4 hours, shred meat, then cook for an additional hour.
Pico de Gallo
2 large tomatoes
1 medium onion
1/2 bunch of cilantro (more or less depending on taste)
Juice of 1/2 lime
Salt, to taste
Chop tomato & remove extra liquid. Dice onion & roughly chop cilantro. In a small bowl, mix together tomato, onion, and cilantro. Add lime juice; stir. Salt to taste.
Cafe Rio Guacamole
2 avocados
1-2 tbsp. Pico De Gallo
Juice of 1/2 lime
Salt, to taste
In a small bowl, mash avocados together with lime juice. Add in Pico De Gallo; stir. Salt to taste.