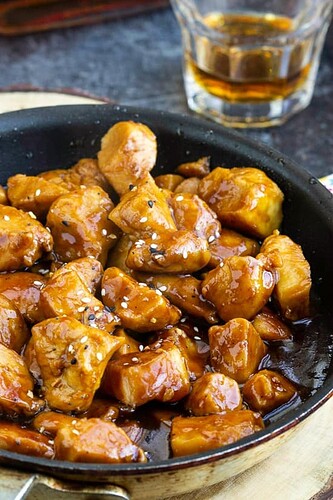 1 1/2 LB. of Thigh Meat or Dark Meat, cut in bite size chunks
2 Tbsp. Teriyaki Sauce
1/2 tsp. Worcestershire Sauce
1/2 tsp. Garlic Salt
1/2 tsp. Ginger Powder
3 Tbsp. Brown Sugar
1 Tbsp. Granulated Sugar
1 C. White Grape Juice
1/2 C. Bourbon
1/4 C. water
2 Tsp. hot sauce
Mix teriyaki sauce, Worcestershire sauce, garlic salt, ginger, brown sugar 1/2 cup white grape juice, hot sauce and bourbon. Stir until thoroughly blended. Pour 1/3 sauce on chicken pieces and mix. Refrigerate for 3 hours or best overnight. Save remainder sauce and refrigerate.
Braise chicken with marinate on medium low heat until cooked. Remove from frying pan. In a 2 quart sauce pan heat remainder of bourbon sauce and add 1/2 cup of white grape juice and 1 Tbsp. of sugar with 1/4 cup water. Bring to a simmer and stir until sugar is devolved. Add chicken to sauce and stir until chicken is coated and its ready to serve