Cakes & Ale is all about the good things in life and that is exactly what they offer at this restaurant located in Decatur, Georgia. Zagat has rated them one of the best restaurants in Georgia. At this restaurant, imaginative farm-to-table dishes are made with seasonal ingredients. They also run their own bakery that offers some amazing treats.
Today's 5 star secret recipe is for one of Cakes & Ale's delicious bakery creations. A tasty lemon curd sits on top of a shortbread crust with some shredded coconut. For the best flavor make sure you use fresh squeezed lemon juice in this recipe.
We have many more great tasting cake recipes that you can try on our forum: Go Here
Enjoy!
=-=-=-=-=-=-=-=-=-=-=-=-=-=
I was losing my memory, focus – and my mind!
And then… I got it all back again.
Discover How: Here
=-=-=-=-=-=-=-=-=-=-=-=-=-=
=-=-=-=-=-=-=-=-=-=-=
New Secret Recipe
=-=-=-=-=-=-=-=-=-=-=
Cakes & Ale's Lemon-Coconut Bars
Like this recipe? Check out our Cookbook Collection of Secret Restaurant Recipes – Go Here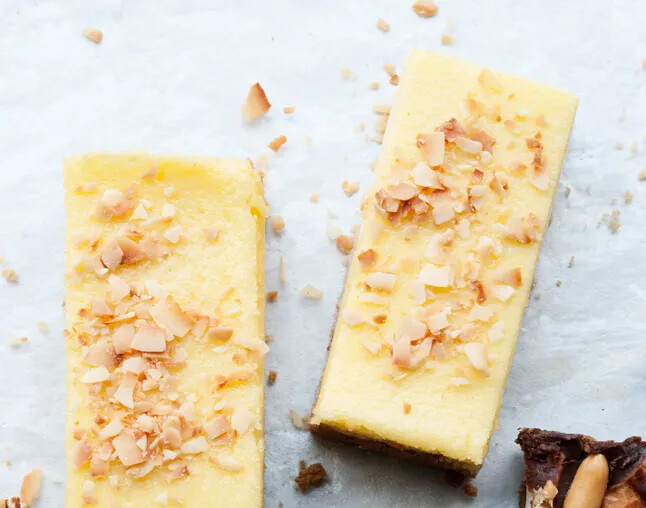 Shortbread Crust:
Nonstick vegetable oil spray
3/4 cup sweetened shredded coconut
2 whole graham crackers
3/4 cup (1 1/2 sticks) unsalted butter, room temperature
1/3 cup powdered sugar
1 cup all-purpose flour
3/4 teaspoon vanilla extract
1/8 teaspoon kosher salt
Lemon Curd:
12 large egg yolks
4 large eggs
2 cups sugar
3/4 cup finely grated lemon zest (from about 8 lemons)
1 1/3 cups fresh lemon juice
3/4 cup (1 1/2 sticks) chilled unsalted butter, cut into 1/2-inch cubes
1/2 cup canned unsweetened coconut milk or heavy cream
Shortbread Crust:
Preheat oven to 350°. Coat a 13x9x2-inch glass baking dish with nonstick spray; set aside. Spread out coconut on a small rimmed baking sheet and bake, stirring every 2 minutes, until light golden brown, 6–8 minutes. Transfer pan to a wire rack; let coconut cool in pan.

Pulse graham crackers in a food processor until finely ground (there should be about 1/4 cup). Transfer to a small bowl; stir in coconut and set aside.

Using an electric mixer, beat butter and powdered sugar in a medium bowl until fluffy, 2–3 minutes. Add flour, vanilla, and salt. Mix just until dough begins to form. Fold in coconut-crumb mixture (dough will be soft and will hold together when pressed between your fingers).

Press dough evenly onto bottom of prepared dish (smooth surface with an offset spatula, if desired). Using a fork, prick dough all over.

Bake crust until golden brown and just set, 18–22 minutes. Set aside.
Lemon Curd:
Cook egg yolks, eggs, sugar, lemon zest, and lemon juice in a medium saucepan over medium heat, whisking constantly and beating in as much air as possible (keeping the whisk moving prevents the curd from burning and the eggs from scrambling), until curd has thickened and begins to bubble, about 10 minutes. Remove immediately from heat.

Whisk in butter and coconut milk until butter is fully incorporated and curd is smooth. Strain curd through a fine-mesh sieve directly onto baked crust. Smooth top.

Bake bars until center of filling is just set, 15–17 minutes. Transfer to a wire rack; let cool in pan for 30 minutes. Chill until cold, 2–3 hours. DO AHEAD: Lemon bars can be made 2 days ahead. Cover and keep chilled.

Cut into bars. Serve cold.
Makes 16
Source: Bon Appetit
Get more secret restaurant recipes on our Secret Recipe Forum: Go Here
Until Next Time… Be Well!
Kind Regards,
RSN