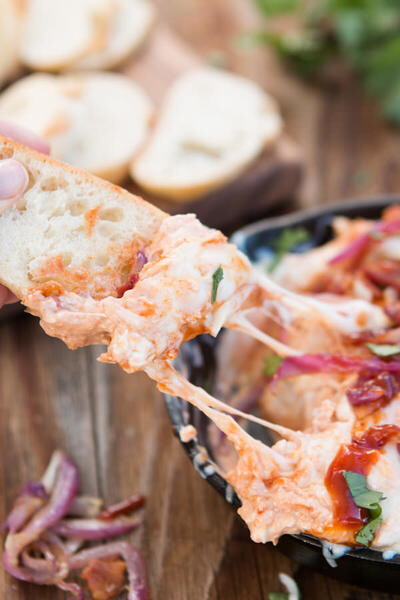 2 small chicken breasts
salt and pepper
1 1/4 cup BBQ Sauce
8 ounces cream cheese, softened
1 cup sour cream
1 cup mozzarella cheese, shredded
1/2 cup smoked gouda, shredded
6 slices bacon, cooked and crumbled
handful Cilantro, chopped
Extra bbq sauce and cheese if desired
In a slow cooker set to low, add the chicken and sprinkle with salt and pepper. Allow to cook for 4 hours, or until cooked through. Shred the meat.
In a small bowl, beat the cream cheese until smooth. Add the sour cream and bbq sauce beat again until smooth. Add to the chicken in the slow cooker, stir in cheeses and allow to cook for 2 more hours until hot and bubbly. Serve with bread, pita chips or whatever you desire.
If you want to, add a little extra cheese on top and place under the broiler in individual serving dishes until the cheese is melted. Drizzle with bbq sauce and dot with cilantro.