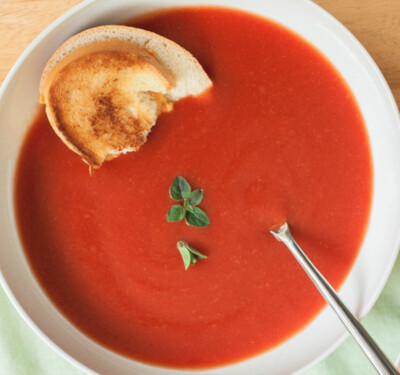 2 28 oz. cans of whole peeled tomatoes
1/2 cup water
heaping 1/4 cup brown sugar
1 Tbsp. tomato paste
1 tsp. seasoning salt
1 tsp. xanthan gum
2 bay leaves
dash ground black pepper
In a blender, combine all ingredients except for the bay leaves.
Blend on high for several minutes, until very smooth and creamy.
The xanthan gum will make the soup sort of frothy.
Never fear though, it will clear when heated.
Transfer to a medium saucepan, add the bay leaves,
and heat over medium-low for about 10 minutes,
until the soup turns a dark red and the froth goes away.
Note
If you don't have any xanthan gum make a slurry with 1 T corn starch and 2 T water.