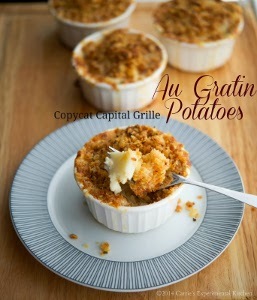 3 Medium Russet Potatoes, peeled
3 tbsp. Butter, divided
2 Cloves Garlic, minced
1 tbsp. All-Purpose Flour
1½ c. Heavy Cream
½ c. Shredded White Cheddar Cheese
½ c. Shredded Jarlsburg Cheese
½ c. Grated Pecorino Romano Cheese
2 c. Potato Chips
1 c. French Fried Onions
Preheat oven to 350 degrees.
Using a mandoline or a sharp knife, thinly slice potatoes and place into your ramekins. (You may have to cut the potatoes in order to fit them if the potato is too large). Place the ramekins on a baking sheet.
In a small saucepan, melt 1 tbsp. of butter over low heat; then add the garlic. Saute garlic for 1 minute; then whisk in flour to form a roux.
Stir in the heavy cream and mix until the roux has dissolved; then add your cheeses.
Simmer the sauce for 5-8 minutes until all of the cheese has melted; then pour the mixture over the potatoes in each ramekin. (Fill as much as you can to the top leaving space to add your topping).
While the sauce is cooking, add the potato chips and fried onions to your food processor and pulse until the mixture is crumbly.
Melt the remaining 2 tbsp. of butter and add to the topping. Mix well then sprinkle the topping over each ramekin.
Place the entire pan into the oven and bake 30-40 minutes until the topping is golden brown and the potatoes are tender.