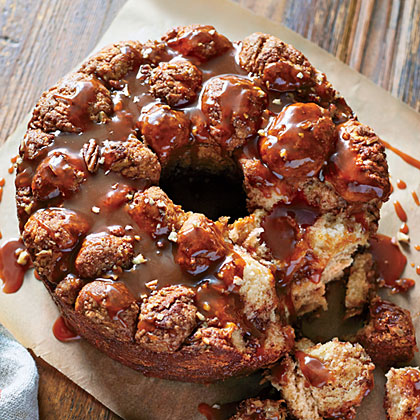 Wax paper
3/4 cup granulated sugar
3/4 cup firmly packed light brown sugar
1 tablespoon ground cinnamon
Breakfast Bread Dough (see below)
3/4 cup butter, melted
1 cup chopped toasted pecans
Caramel Glaze (see below)
Generously grease a 10-inch (12-cup) tube pan; line bottom with wax paper, and lightly grease wax paper.

Stir together granulated sugar and next 2 ingredients in a small bowl. Turn Breakfast Bread Dough out onto a lightly floured surface, and knead 3 or 4 times. Shape dough into about 60 (1 1/2-inch) balls. Dip each in melted butter; roll in sugar mixture.

Place a single layer of coated balls in prepared pan, covering bottom completely. Sprinkle with 1/3 cup pecans. Repeat layers twice. Top with any remaining sugar mixture; drizzle with any remaining melted butter.

Cover dough; let stand 1 hour.

Preheat oven to 350°. Uncover and bake 40 to 45 minutes or until a wooden pick inserted in center comes out clean. Transfer to a wire rack, and cool 20 minutes. Remove from pan to wire rack, discarding wax paper. Invert onto a serving platter. Drizzle with glaze. Serve warm.
To make ahead: Prepare recipe through Step 3. Cover and chill up to 24 hours. Let stand 1 hour and 30 minutes. Proceed as directed in Step 5.
Breakfast Bread Dough
1/2 cup warm water (100° to 110°)
1 (1/4-oz.) envelope active dry yeast
1 teaspoon sugar
5 cups all-purpose flour
3 tablespoons sugar
5 teaspoons baking powder
1 1/2 teaspoons table salt
1 teaspoon baking soda
1/2 cup cold butter, cubed
1/2 cup shortening, cubed
2 cups buttermilk, at room temperature
Stir together first 3 ingredients in a 1-cup glass measuring cup; let stand 5 minutes.

Stir together flour and next 4 ingredients in a large bowl; cut butter and shortening into flour mixture with a pastry blender or 2 forks until crumbly. Add yeast mixture and buttermilk, stirring just until dry ingredients are moistened. Cover with plastic wrap, and chill 2 to 72 hours.
To make ahead: Prepare recipe as directed. Cover and chill up to 72 hours. Use as directed in Caramel-Glazed Monkey Bread or Chocolate Rolls.
Caramel Glaze
3/4 cup firmly packed light brown sugar
6 tablespoons butter
3 tablespoons milk
1 teaspoon vanilla extract
Bring first 3 ingredients to a boil in a small saucepan over medium heat, stirring constantly; boil, stirring constantly, 1 minute. Remove from heat, and stir in vanilla. Stir constantly 2 minutes; use immediately.
Southern Living