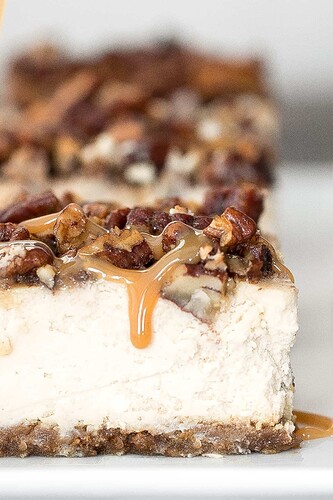 CHEESECAKE CRUST:
2 cups graham cracker crumbs
1/4 cup brown sugar
1/4 cup butter, melted
CHEESECAKE FILLING:
3 (8 oz.) packages cream cheese, softened to room temperature
1/2 cup sour cream, at room temperature
1/3 cup granulated sugar
1 teaspoon vanilla extract
1/2 tablespoon freshly squeezed lemon juice
1/2 tablespoon white flour
1/4 teaspoon salt
2 eggs
PECAN TOPPING:
2 cups pecans, coarsely chopped
1 tablespoon butter, melted
1/4 cup caramel sauce
Make the Cheesecake Crust:
Preheat the oven to 350 F. Lightly grease an 8-inch square baking pan and line it with parchment paper. The parchment paper will help remove the cheesecake out of the pan easily after baking.

In a medium bowl, stir together graham cracker crumbs and sugar. Gradually pour in melted butter, while stirring until mixed well. Press crumbs firmly into the parchment line baking pan.

Transfer the pan into the freezer to freeze the crust for 15 minutes, to allow the crust to harden.
Make the Cheesecake Filling:
In a large bowl, use a hand mixer to mix together cream cheese, sour cream, sugar, vanilla extract, lemon juice, flour, and salt, until well blended. Add eggs, one at a time, and beat until just blended. (Do no overmix to avoid cracking during baking).
Assemble and Bake:
Pour filling into the cooled crust and smooth out the surface. Place the square pan into a large baking pan. Fill the pan with 1 inch (2 cm) deep of boiling water. Move the large baking pan into the oven and bake for 45 in the boiled water bath until the filling is set. (Baking in hot water bath helps prevent sudden temperature drop and cracking.
Add Pecan Topping:
In a medium bowl, stir to combine chopped pecans, mleted butter and caramel sauce.

Spread the mixture evenly over the top of the cheesecake using a spoon. Save any remaining caramel sauce in the bowl for garnish.

Place the baking pan back into the oven continue to bake at 350F for 25-30 minutes until the pecan mixture is set. Take the pan out of the oven and allow it to cool down to room temperature, about 1 hour.

Carefully remove the cheesecake out of the pan using lined parchment paper and place on a wire cooling rack. This helps the cheesecake crust from getting soggy while being refrigerated.

Transfer the cheesecake to the refrigerator overnight (or at least 8 hours) to cool down and solidify.

To serve, transfer the cheesecake to a serving dish. Cut into slices and serve with remaining caramel sauce. Drizzle more caramel sauce on top, if desired.