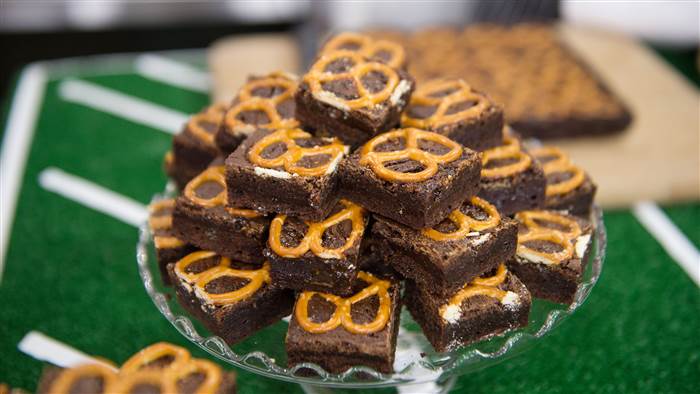 10 tablespoons unsalted butter, room temperature
1 cup granulated sugar
1/4 cup brown sugar, packed
3/4 cup unsweetened cocoa powder
1/2 teaspoon salt
2 large eggs, room temperature
1 tablespoon pure vanilla extract
1/2 cup all-purpose flour
1/2 cup caramel sauce
16 tiny twist pretzels
Preheat oven to 350°F. Coat the inside of an 8x8-inch baking pan with nonstick spray and line with parchment paper.

In a medium-sized pot over medium heat, add butter, both sugars, cocoa powder and salt and whisk together until it becomes nice and smooth (about 2-3 minutes).

Next turn down heat and carefully add eggs, one at a time, constantly stirring as you add them so they don't scramble, then add vanilla extract.

Lastly remove pot from heat and whisk in flour until well incorporated. The batter will be nice, silky and dark chocolate in color.

Add half of brownie batter to the baking pan and bake for 10 minutes. Remove from oven, then evenly layer caramel over baked brownies and spread remaining brownie batter on the top of the caramel. Using a skewer or a knife, swirl the caramel and brownie batter together on top. Lastly, add four rows of four pretzels on top of the brownies.

Bake an additional 20-25 minutes or until a toothpick inserted into the center comes out just barely clean. Don't over bake.

Remove brownies and cool on cooling rack then cut and serve.